FROM CNN's Jack Cafferty:
Alaska Governor Sarah Palin may step back into the national spotlight in June when she's been invited to headline a major Republican fund-raising dinner. The 2008 vice presidential nominee has kept a pretty low profile since John McCain lost the election last November.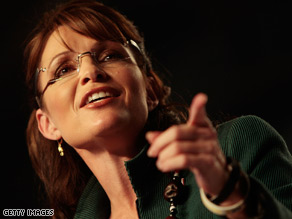 Is Palin the best choice for GOP fundraiser?
She's made a handful of trips outside of Alaska, but has skipped big gatherings, like the Conservative Political Action Conference last month. But the upcoming spring gala is the main fund-raising event of the year for congressional Republicans, and the committee chairmen are confident Palin will bring the necessary star power to raise the big bucks.
They call her "one of the brightest rising stars" and "one of the most popular and recognizable faces" in the GOP. She's certainly recognizable, but for many of the wrong reasons. Of course it will probably be a challenge for anyone to raise money in this climate for the Republican Party, which is at all time low approval ratings.
So far, Governor Palin hasn't officially accepted the invitation. Polls suggest Palin remains a favorite of social conservatives; a February survey showed she is the candidate that Republicans said they will most likely support in 2012 - beating out both Mike Huckabee and Mitt Romney.
However, Palin remains pretty controversial among the national electorate. A Newsweek poll taken early this month found she had a 44 percent favorable rating - and 42 percent unfavorable. And if she runs in 2012, count on the Democrats to make a whole series of commercials out of those disastrous interviews she did with Katie Couric.
Here's my question to you: When it comes to fundraising, is Gov. Sarah Palin the best the Republicans can do?
Interested to know which ones made it on air?
Raymond from Charlotte, North Carolina writes:
Like her or hate her, there is no denying that she has the ability to draw crowds. However, these crowds tend to be very divisive. This may not be the message the Republicans want to push as they are already seen as a party that would rather see the country go down in flames than have Obama's plans succeed.
Ray from Danville, Virginia writes:
Why do you worry about Governor Palin? I think she will be very effective as a fund-raiser for the Republican Party when you look at all she has accomplished in politics. I think she is smart, personable, and a born leader. Who have you got in the Democrat Party that is better? I can't name anyone.
Jana from New Orleans writes:
She just might be. I believe it is a sad day for the party of William F. Buckley and other intelligent conservatives. I may not agree with their philosophy, but I miss the give-and-take.
Tony writes:
Pretty much. Gov. Palin is to the GOP is what Lindsay Lohan is to Hollywood: disastrously newsworthy. She is their star. And, like Hollywood celebrities, bad publicity is publicity nonetheless. With the Republicans being less relevant, the GOP is starved for any kind of attention from whoever they can get. Sarah Palin is the person who can deliver.
Mike from Dallas writes:
It's the best that the Democrats can do. It got me to send money last fall.
Danny from Charleston, South Carolina writes:
She'd better be... with that wardrobe!
Larry from Belton, Texas writes:
Yes, since Anna Nicole died. And sweet Sarah won't be the first woman to talk a bunch of old white men out of copious piles of money.