FROM CNN's Jack Cafferty:
Former Vice President Dick Cheney suggests President Obama is endangering the American people by reversing some of the Bush administration's anti-terror policies.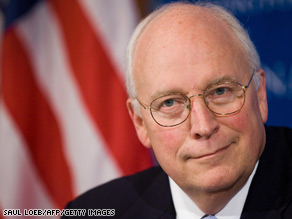 Cheney says some Obama choices raise the terror attack risk.
Speaking to CNN's John King, Cheney said harsh interrogations of terror suspects and the use of warrantless electronic surveillance were "absolutely essential" to get information that prevented more 9/11 like attacks.
He says Mr. Obama "is making some choices, that, in my mind, will, in fact raise the risk to the American people of another attack."
Since taking office, President Obama has announced plans to close the prison camp at Guantanamo Bay, to halt military trials of suspected terrorists there and to make CIA officers follow the Army field manual's rules on interrogations. Critics of the Bush administration have said the so-called "alternative" interrogation techniques amounted to torture; and that the warrantless wiretapping violated laws that were enacted after Watergate.
Meanwhile, a secret 2007 report by the Red Cross suggests treatment of al Qaeda captives constituted "torture." The report alleges detainees were routinely beaten, doused with cold water and slammed head-first into walls during interrogations. At other time, they were stripped of clothing, bombarded with loud music, exposed to cold temperatures, and deprived of sleep and food for days. Some captives say they were forced to stand for days with their arms shackled - wearing only diapers.
You may recall - the Bush White House repeatedly promised that the U.S. "does not torture"...
Here's my question to you: Is former Vice President Dick Cheney right that Pres. Obama's policies "raise the risk" of a terror attack in the U.S.?
Interested to know which ones made it on air?
I. writes:
Cheney is a power-hungry, myopic zealot who wouldn't know the truth if it came up and bit him. Personally I wouldn't believe him if his tongue came notarized, or if he was given truth serum and connected to a lie detector!
Diane writes:
We probably lowered the risk of attack several notches since Obama took office. The terrorists do not have Gitmo or the use of torture to use against us for their public relations ammo like they did during the Bush era.
Bob from Louisville, Kentucky writes:
Why would anybody believe a thing this guy has to say after his proclamation that when we invaded Iraq we would be treated to parades with people strewing rose petals? He should never be featured in the media again unless it is when they carry him off to the pen in handcuffs.
J.O. writes:
Quite the converse. It strikes me that Dick Cheney's comments are, in effect, an invitation to the terrorists to attack. He is still trying to be the bully. President Obama's civil approach to the world's problems will reduce the likelihood of future attacks.
Mike writes:
I don't know if V.P. Vader is right or not; I'm not that smart. What I do know is that to take liberty and freedom away from anybody in the name of "security" is un-American… It is time for us to be Americans again and understand that freedom comes with a price and that price is risk.
Dana writes:
No, he's not right. He hasn't been right about anything over the years. Worse, it's not that he's incorrect – it's that he's lying! The media should be ignoring this man. He's now become irrelevant.
Judi writes:
I thought "24" was just a TV show on FOX, not a reality program. Dick Cheney is scarier than Jack Bauer.