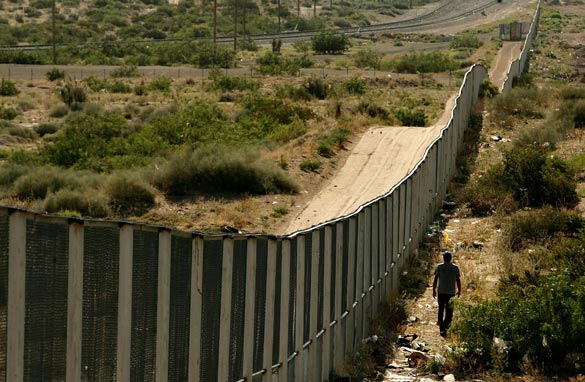 (PHOTO CREDIT: GETTY IMAGES)
FROM CNN's Jack Cafferty:
As drug-related violence escalates in Mexico there's been chatter this week about the possibility of sending U.S. troops to the border.
President Barack Obama says states, including Texas, have asked for National Guard troops to be deployed to the border; however the Pentagon says it hasn't received specific requests to do so. A Pentagon spokesman says the U.S. is already providing the Mexican government with five helicopters, a Marine surveillance vehicle and hand-held scanners. He adds that any troops that would be sent would only protect the U.S. side of the border, and that there are no talks of sending them into Mexico.
The chairman of the Joint Chiefs of Staff, Admiral Michael Mullen, went to Mexico last week and is highlighting the need to work more with Mexico's military. He says the violence is rising there because the government is taking on drug cartels more directly - and that this is an opportunity for the U.S. to cooperate.
Homeland Security Secretary Janet Napolitano says the U.S. will soon send a large contingent of federal agents to the border; among other things, they will step up car inspections.
Mexican officials say the violence killed more than 6,200 people last year and more than 1,000 in the first two months of this year. One U.S. official has called Mexican drug cartels the biggest organized crime threat facing America.
Here's my question to you: In light of increased drug-related violence in Mexico, should the U.S. send troops to the border?
Interested to know which ones made it on air?