FROM CNN's Jack Cafferty:
Some failing grades for the Obama administration when it comes to its efforts to jumpstart the economy.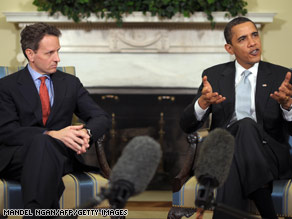 President Obama speaks after receiving the economic daily briefing with Treasury Sec.Timothy Geithner in the Oval Office yesterday.
A Wall Street Journal survey of economists shows a majority of those polled are dissatisfied with the White House's policies. On average, they give President Obama a grade of 59 out of 100. Treasury Secretary Tim Geithner gets an average grade of 51.
The economists also pushed back once again their forecasts for when a recovery will begin - now they're saying October. That's after saying August last month. They predict the economy will lose another 2.8 million jobs in the next year - with the unemployment rate topping nine percent. Also, these economists see a one-in-six chance that the U.S. falls into a depression.
When it comes to the $787 billion economic stimulus package - the experts are mixed, with 43 percent saying the U.S. will need another package of about $500 billion. Others were doubtful that we needed any stimulus plan at all.
But it's been all the talk in Washington this week since House Speaker Nancy Pelosi suggested more spending might be needed. House Democrats have since backed off saying we need time to see how the first stimulus package plays out. But even talk of another massive plan was all it took to get Republicans and many Democrats all wound up.
Republicans argue this is proof that the first package isn't working while some Democrats are saying there's no appetite for another package and it's way too soon to even think about it.
Here's my question to you: Does the U.S. need a second economic stimulus package?
Interested to know which ones made it on air?
Larry writes:
We did not need the first package. The economy has always had the ability to sort itself out. The strong survive and the weak learn a lesson and come back stronger next time. Most economists I have read agree that FDR actually extended the Depression by several years and made the suffering much worse by continuing to push the New Deal. Pelosi, Reid, and Obama need to leave it alone.
John from New Hampshire writes:
Yes, and this one should go to the people! Give each legal citizen $1 million – no strings attached! I'm willing to bet most people will use that money to pay off their mortgages, auto loans, student loans, etc... which in turn will eliminate pressure on the banks by reducing and eliminating toxic assets because loans will be getting paid off! Even if some people spend the money foolishly, that money is getting injected right back into the economy.
Ken from Centreville, Virginia writes:
Judging by the behavior of the market this week, the recovery may very well be beginning now, not in October. Unemployment is, and will be, a lagging indicator. General economic conditions will improve well before unemployment starts to drop. So, there may be a need for additional targeted spending, to directly help unemployed. But this recession has a large "psychological" aspect to it that implies the first package may have a pretty good effect.
C.T. writes:
The truth seems to be that no one really knows what is needed to get us out of this current economic crisis. Look at Wall Street: record losses week after week and then Citibank reports positive numbers for the first two months of 2009 and Wall Street has a rally. Those two months of profit costs the American taxpayers $180 billion.
Ron from Coalinga, Calif. writes:
So the economists don't like the idea of another stimulus package? There's an old saying, "With enough data and a good model, an economist can make as good a guess as anyone else."