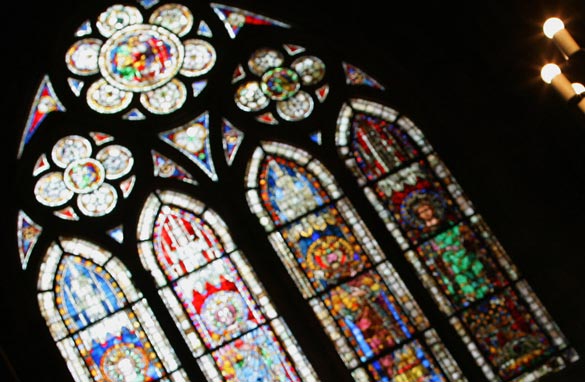 (PHOTO CREDIT: GETTY IMAGES)
FROM CNN's Jack Cafferty:
More Americans are saying they have no religion - according to a wide ranging study done by Trinity College.
The survey shows 15 percent of those polled say they have no religion; that's up from about eight percent in 1990. Northern New England and the Pacific Northwest are the least religious regions. And the number of Americans with no religion rose in every single state.
Organized religion seems to be playing a smaller role in many people's lives. 30 percent of married couples say they didn't have a religious wedding ceremony, and 27 percent say they don't want a religious funeral.
Nonetheless almost 70 percent of those surveyed say they believe there is a God; and another 12 percent say they believe in a higher power but not the God of traditional organized religions.
Some suggest that the rise in evangelical Christianity is actually contributing to the rejection of religion by other Americans. The survey shows about one in three are evangelicals. The number of evangelicals is actually increasing while the number of Christians overall is declining.
Other findings include:
- The percentage of Catholics in the U.S. has remained steady since 1990.
- The percentage of Muslims has doubled since then but remains statistically very small.
- Mormons have remained steady as a percentage of the population.
- Finally, the number of Jews is falling if the category includes only those who define themselves as religious Jews.
Here's my question to you: What does it mean when more Americans say they have no religion?
Interested to know which ones made it on air?
Gordon from New Jersey writes:
Jack, It's certainly nothing to worry about. I have a great relationship with God, while organized religion leaves me cold. I'm much more afraid of the wrath of the religious than the wrath of God.
Marie from South Carolina writes:
It means that Americans now know the difference between 'religion' and 'spirituality'. They equate 'religion' to the manmade set of bureaucratic rules that are set up by a church. Spirituality speaks to people's relationship with their God.
Steve from Florida writes:
I think the conservatives have actually given "religion" a bad name in a lot of ways, made it over-bearing, divisive, seemingly narrow-minded, way too political and pretty much a caricature of itself. If what we've seen in the last 8 years is the definition of a "religion", I certainly wouldn't want to be put in that particular box.
Jim from Willowick, Ohio writes:
As a "cradle" and lifelong Catholic, I've been feeling incrementally disappointed with my official Roman Catholic Church and its leadership from the Vatican, diocesan and even local levels for many years. Organized religion is all about money and 'my God' is better than 'your God'. Hundreds of millions of lives have been taken over the centuries in the various names of God and it's all a load of sheep-dip.
Theresa from Atlanta writes:
It means that Americans have grown tired of and wise to the ways of organized religion. They all have one political agenda: get their beliefs inserted into our legal system. Our country would go to the dogma.