FROM CNN's Jack Cafferty:
President Obama may have started a bit of a sandstorm with his suggestion to reach out to moderate members of the Taliban in order to end the Afghan insurgency.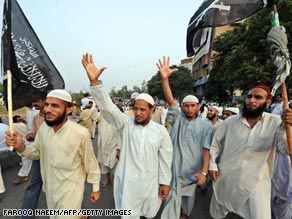 President Obama suggests that like U.S. peace agreements with Sunni militias, there may be similar opportunities in Afghanistan and Pakistan.
In an interview with the New York Times, the president suggested that just like the U.S. made peace agreements with Sunni militias in Iraq, there may be similar opportunities in Afghanistan and Pakistan. Mr. Obama acknowledged that this situation could be more complex than Iraq.
Afghan President Hamid Karzai welcomed the proposal; and some Western politicians and military officials say this war can't be won by military means alone - that some kind of reconciliation will be necessary.
But others are more skeptical. One expert says "'moderate Taliban" is like "moderate killer - is there such a thing?" And CNN National Security Analyst Peter Bergen says doing deals with the Taliban could further destabilize Afghanistan. He says it will always be possible to bribe some Taliban - pointing out that the Afghan government has had an amnesty program for Taliban fighters for four years and thousands have already agreed to it.
But Bergen says these kinds of deals are more "in the realm of fantasy than sustainable policy." For starters, he says the Afghan government is too weak to negotiate with the Taliban. Also, the Taliban believe they may be winning in Afghanistan so they probably see no need to talk. Bergen says the Taliban and al Qaeda have grown much closer since 9/11 and it will likely be more difficult now to separate them.
Here's my question to you: Is talking to the Taliban a good idea?
Interested to know which ones made it on air?
Mark from Berwyn, Pennsylvania writes:
It's not a good idea at all, quite the opposite. The Taliban is unlike the Sunnis in Iraq, who were a political party tossed out of power. Working with them made sense. The Taliban is a terrorist group, made up of religious fanatics. They have proven they will not agree to anything the Western world wants, so an agreement with them is not worth the paper it would be written on.
Mack from Michigan writes:
I doubt it, Jack. It's probably futile to talk to any group that believes they are representing the will of god as they interpret it, you know, like the far right wing of the Republican Party. We should just drive them back into their caves and let them preach their twisted dogma to each other to their hearts' content, you know like the far right wing of etc.
Tim from Texas writes:
Hey Jack, It was actually General Petraeus who made this suggestion first, saying that we could perhaps peel away some of the more moderate Taliban… I don't see any merit in the idea that talking with our enemies is a bad idea. If it doesn't work, it doesn't work. So what? We don't lose anything by trying.
Darryl writes:
It is absolutely not a good idea to talk to the Taliban. The idea that any of them are "moderate" is preposterous. Moderates do not join terrorist organizations. Period.
Kingsley from Texas writes:
The more you antagonize and isolate them, the more hardened and brutish they become. Talking to the Taliban will be viewed by them as a sign of respect which is what the Muslim world cherishes and this will yield positive results.
Pete from New York writes:
Isn't "moderate Taliban" an oxymoron? Does that mean they only cut off half of your head? Or do they just do it more slowly?