FROM CNN's Jack Cafferty:
There's a growing sense that Iran is getting closer and closer to making a nuclear weapon - and someone may soon have to stop them.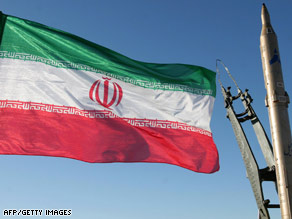 An Iranian flag flutters next to a ground-to-ground Sajil missile. Iran has boasted in the past of developing new weapons systems only to be met with skepticism from Western defense analysts.
Israel is now saying that Tehran has mastered the nuclear technology to make a nuclear bomb, with Israel's military intelligence chief saying "Iran has crossed the technological threshold," adding that the country continues to amass low enriched uranium. He says the Islamic republic is using expected talks with the U.S. and the West to buy time to get enough uranium to build a bomb.
The spy chief also says that even though Iran has mastered the technology, it still hasn't made a nuclear bomb and is probably still a couple years away from doing so. This would suggest they could be stopped before getting their hands on a nuclear weapon.
And Israel just might be the ones to stop them. A recent report by U.S. experts suggest Israel is seriously considering taking unilateral action to stop Iran from getting nuclear weapons. The report says Israel's time frame for action is getting shorter due to Iranian advances and the possibility that they will upgrade their air defenses to give their nuclear program a further reach. The report argues international sanctions as well as financial pressure be increased.
Meanwhile Iran has just announced that it successfully tested a new air-to-surface missile. Nonetheless, they continue to deny they're seeking nuclear weapons.
Here's my question to you: If Iran is now close to obtaining a nuclear weapon, what should Israel do?
Interested to know which ones made it on air?
John from Rohnert Park, California writes:
Israel should do nothing. Action coming from them would certainly trigger a global call to war from the rest of Islam and we'd have an enormous mess on our hands. The clever move here is to have Saudi Arabia (who has a good air force) be the entity commissioned to take out that nuclear plant on our behalf. The rest of the Muslim world would accept the action coming from them, but never coming from Israel or us.
Mike from New York writes:
They should come clean about their own program (and thank the French and British for helping them set it up in the first place). That would be a good first step toward instituting a regional nuclear inspection regime that would be in everyone's interest.
Bob from Morristown, New Jersey writes:
The only country with the potential to stop Iran's pursuit of nuclear weapons diplomatically is Russia. Russia may be more inclined to follow that course now in exchange for U.S. halting plans to deploy an ABM system in Eastern Europe. Israel should wait to see how the current diplomatic developments turn out.
Chad from Los Angeles writes:
Just take them out! We have too many conflicts going on, so Israel owes us this one. Any help to control the world's over-population. Thanks.
Deb from Illinois writes:
The question is not what should Israel do, but what will Israel do. Obama had better saddle up and do some big-time wheeling and dealing with other involved nations, to get a plan in place and working before Israel feels forced to act.
Jake from New Jersey writes:
Whatever they do, they need to do it by themselves and not expect us to do it for them or drag us into it with them.