FROM CNN's Jack Cafferty:
Illegal aliens in this country could wind up winning big from the recently passed economic stimulus package.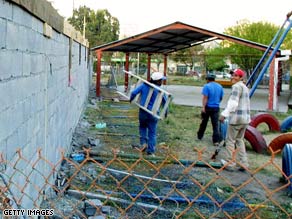 The economic stimulus package could wind up creating 300,000 jobs for illegal aliens.
USA Today reports that studies by two conservative think tanks show illegal aliens could take 300,000 new construction jobs - or 15 percent of the two million jobs to be created by U.S. taxpayer dollars. The numbers of illegal workers getting jobs could be especially high in states like California.
These reports blame Congress for not forcing employers to certify the status of workers. The House of Representatives had included a provision in its version of the bill that would require employers to use a Homeland Security Program called e-Verify, but the Senate didn't include it, and the provision wasn't in the final bill that went to the president. So much for putting Americans first.
This recession/depression isn't that bad and unemployment is only at 8.1 percent and we've only lost 4.4 million jobs in the last 15 months. What's wrong with giving a few hundred thousand jobs away to people who shouldn't even be in the country in the first place? This is your government at work.
An advocacy group for immigrants doesn't dispute the 300,000 estimate - but says it's impossible to know for sure since there could be many jobless immigrants leaving the country because of the recession. The group says these are fear tactics and instead we should be focusing on economic progress for all. Excuse me?
Immigrant advocacy groups along with business groups - who of course benefit from cheap labor - argue that the E-verify program has lots of errors that could mean millions of workers would be wrongly identified and not authorized for jobs.
The Obama administration has delayed until at least May a Bush era order that would require all federal contractors to use E-verify in hiring.
Here's my question to you: What does it mean if up to 300,000 illegal aliens get jobs created by the economic stimulus package?
Interested to know which ones made it on air?
Bill from New Jersey writes:
Jack, There are some parts of the stimulus package debate that are just nit-picky: who cares if pig manure is studied in Iowa as long as the guys studying it are paying their mortgages and buying a car with their salaries? This ain't one of them though. Every cent of this stimulus needs to go to bona fide taxpaying Americans who are in trouble right here. They expect no less from their government, and every one of us, their fellow citizens, should stand behind them.
Alan from Riverdale, New York writes:
I have been an Obama supporter since day one but this is SO WRONG! How can you create jobs and then give them away to people who are here illegally? Aren't these jobs being created by funds from the U.S. taxpayers? How can this president and this Congress justify giving these jobs to people who do not deserve them? Illegal aliens are lawbreakers.
Hector writes:
Jack, Aren't we jumping the gun here? Why provoke such a one-sided question? This will do nothing more than bring out this country's bad side. Last I looked: even illegal aliens who raise their children AND have jobs in this country spend money here. Isn't that good for the economy? Shouldn't we stop scapegoating and come together to pull out of this?
D. writes:
If the company hires illegal workers, put the CEOs in jail and fine the CEOs $100,000 for each person hired. I think the law is already on the books. Enforce the laws and they will go home.
Marie writes:
E-Verify should be mandated in every state in our nation. There is no excuse in the world why it is not. I have been writing the president and my representatives regarding the stimulus package and the use of e-Verify. What a slap in the face to all of us that some of these jobs will go to people who are here illegally. This is sick. Americans need jobs and they need them now.
Craig from Palm Springs, California writes:
Just great! My ancestors got here around 1665 and I've been trying to get a job since last July!