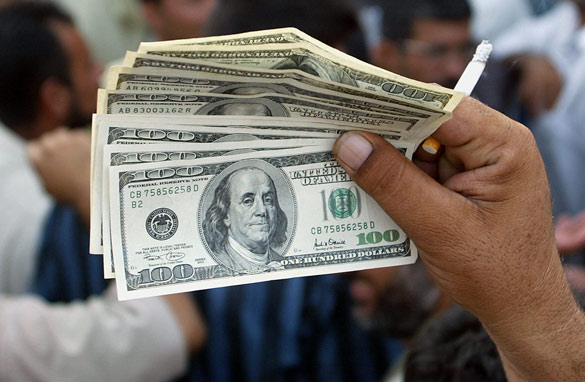 If you had extra money would you invest in the stock market? (PHOTO CREDIT: TIMOTHY A. CLARY/AFP/GETTY IMAGES)
From CNN's Jack Cafferty:
Despite the plunging stock market, a majority of Americans still think stocks are a good place to put their money for the long term.
A new Gallup Poll shows 53% of all adults and 67% of stock owners agree that stocks are a good long-term investment.
However, although most people say they back investing in the market in theory, actually buying in this down-market is a whole different story.
When stock owners were asked what they plan to do with their money in the next month, only 21% say they plan to buy more stocks. 73% say they plan to hold onto their stocks - but not buy any more right now.
It seems it will take more than bargain-basement share prices to lure investors back into the market. Stock prices are driven by corporate earnings, and until there is some indication that companies are going to start making money again, don't look for a turnaround on Wall Street.
Truth is, no one knows how long it will take for the stock market to recover, and so many people have the jitters, that they're just standing on the sidelines waiting. The market continues to take a beating in the last 2 weeks, the Dow Jones Industrial Average has lost more than 735 points. And this Gallup poll shows 20% of Americans think it will be at least 4 years before the market recovers.
Here's my question to you: If you suddenly came into extra money, would you invest it in the stock market?
Interested to know which ones made it on air?
Meg from Troy, Ohio writes:
Jack, I don't think so. I just don't have confidence in the stock market right now. I would be more likely to invest it in life insurance for myself or my family, or perhaps in something concrete like my home. The guys on Wall Street are responsible in so many ways for the bad economic situation that we find ourselves in today. I wouldn't trust them with my money any time soon.
Ray from Florida writes:
Bet your bottom dollar, Jack! Now is the time to buy, stocks are dirt cheap! If you're smart about it, you can buy now. And even if they drop some, in a few years from now you'll be a happy camper. These are the times when real fortunes are made!
Don writes:
I did, Jack, and it's not extra any more. It's gone.
Kevin from Punxsutawney, Pennsylvania writes:
I'd invest extra money in the market. Seriously, after all the cost-cutting (including layoffs), companies are very lean, and ready to bounce back to profits within a year. You heard it here first.
Denny from Tacoma, Washington writes:
Absolutely not, at least until the stock market becomes more realistic and not like a bad fairy tale.
Karen in San Jose writes:
Absolutely, I'm 36 years old and I'm still putting money away. I am buying for less now, which will turn into more later. Things will look positive again. If I was near retirement age, then I'd have to call my accountant and ask his opinion first.
Susan from Sequim, Washington writes:
Jack, I just did! I got a windfall and put 20% in stocks and 80% in municipal bonds. The stocks I bought? A clean energy index fund. I figure if it doesn't take off, we're all doomed anyway!
Amy from Elkridge, Maryland writes:
Absolutely. And since we're on the subject, Jack, can you tell me where I can get some extra money?