From CNN's Jack Cafferty:
Earlier this week I wrote this in my column on CNN.com: "First lady Michelle Obama has blown away the stale air in a White House musty from eight years of the Bushes. It's like the sun came out and a fresh spring breeze began wafting through the open windows."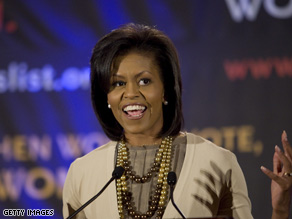 Mrs. Obama has avoided the appearance of getting involved in policy.
The First Lady recognizes the White House is "the people's house", inviting ordinary people, kids, you name it to visit. The nation's first African-American first lady is also making the rounds among federal agencies - sometimes thousands of government employees line up to see her. She has visited schools in the district and yesterday she went to a soup kitchen.
Perhaps it's no surprise that a recent poll shows Michelle Obama has the highest initial favorable rating of first ladies going back to Nancy Reagan.
An article in the Christian Science Monitor points out that one thing is clear about Michelle Obama's post-election rollout. "She is no Hillary Clinton," said the article. Although both first ladies are Ivy-league trained lawyers who came out of high-power careers, Mrs. Obama has avoided the appearance of getting involved in policy. Instead she's cast herself as "mom in chief", with her top priority getting her girls settled at school and into a routine.
Yet, some are wondering if this is just Obama's opening act, if policy work will be a natural progression at some point. After all, she was a top executive at a Chicago hospital. And during the campaign Obama held regular women's roundtables, selling her husband's candidacy and giving feedback to his inner circle. She has made the needs of military families a priority both before and after the election.
Raised on the south side of Chicago in a working-class family, Michelle Obama went on to a top-notch education at Princeton and Harvard Law School.
Here's my question to you: Does Michelle Obama have a future in politics if she wants one?
Interested to know which ones made it on air?
Tripp from Mechanicsburg, Pennsylvania writes:
Michelle Obama is the genuine article, perhaps even outshining Princes Di. She could be our nation's first queen if she chose. As for politics, I believe Michelle is far above the madding crowd and will always place her First Family first.
Susan in Twin Falls, Idaho writes:
Funny you should ask. I started turning that scenario over in my thoughts about a month ago. If she and Barack were to be elected to two full terms that would equate to 16 years of common sense, morality and brilliance. We sure could use all of those qualities.
Frost writes:
I think she has a big enough job now. She calms us like no other first lady, we admire her as the first mom and first lady. She is setting the standard of the Great American Mom. And that's a huge job. Both of them hit the ground running, every day they reach out and touch a part of American long forgotten about.
Frank writes:
God, I hope not.
Brielle from New Jersey writes:
She could, but I doubt she wants it. I would just like to say though–all those people who called her an "angry black woman" during the campaign are now eating their words, because she has shown herself to be bright, poised, down-to-earth, and deeply committed to the issues of the middle class.
Kevin from Omaha, Nebraska writes:
I feel the country still wants a female president and when that time comes, she could set the standard on how to do that...if she wants to! Who would be her competition? Sarah Palin? That's another Super Bowl blowout!
Marie from Ontario writes:
In most modern countries, Michelle Obama would likely be a shoe-in with her high level of intelligence and charisma, but I think being a woman and being black would be just too much for the U.S. to handle at this point in time. On the other hand, if she ever did manage to get elected it would be fun to watch the likes of Rush Limbaugh, Sean Hannity and Bill O'Reilly's heads explode on air.