FROM CNN's Jack Cafferty:
Some Democrats are calling on President Obama to veto a $410 billion dollar spending bill because it's too expensive and includes too much pork.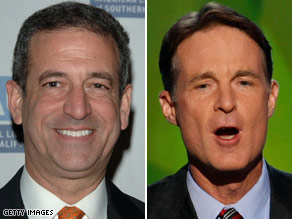 Democratic Senators Russ Feingold (left) and Evan Bayh (right) say the $410 billion measure is too costly and contains too much pork.
Senators Russ Feingold and Evan Bayh both say they will vote against the measure. The bill - which would keep the federal government running through this fiscal year - includes $7.7 billion in more than 8,000 pet projects, or earmarks.
Bayh says the bill "requires sacrifice from no one, least of all the government." He calls the measure "tone deaf" and points to a disconnect between the belt-tightening average Americans are going through and what the government is doing. Feingold says Mr. Obama should veto the bill and tell Congress to "clean it up" and "do it over."
But other Democrats have defended the bill, saying it's necessary to counter the economic downturn and restore budget cuts made by President Bush. House Majority Leader Steny Hoyer has defended earmark request calling them "the congressional initiative process."
Meanwhile President Obama is expected to sign the bill once it gets to him. The White House says the legislation needs to be passed to finish "last year's business" and that the president will work with Congress to reduce earmarks in the future. At a meeting last week, the president reportedly urged Democratic leaders to "limit" future earmarks.
Here's my question to you: Should President Obama veto the $410 billion spending bill in order to remove $7.7 billion in pet projects?
Interested to know which ones made it on air?
Janne writes:
He should if he wants to keep any credibility with the American people. All I have heard from him is change and accountability, but I have yet to see him produce either. He demands that Wall Street be held accountable but he does not have the backbone to hold Pelosi and Reid accountable.
JD from North Carolina writes:
So, $7.7 billion is 1.878% of the overall budget. I suspect the other 98.12% of funding is more urgently needed than more partisan bickering and posturing. Ignore the so-called "fiscal conservatives".
Jim from Milwaukee, Wisconsin writes:
Yes, but allow the sponsors of the earmarks to apply for funding of their projects (out in the open) in a subsequent bill and support those that create jobs or stimulus with money from the stimulus package. You should remember that earmarks are the primary method for representatives to bring federal funding to their constituents.
Marc from Orlando, Florida writes:
Congress chastises the bankers for wasting the stimulus money on extravagant parties and bonuses. Then they do the same thing and disregard the public trust by wasting money on earmarks meant to do nothing more than keep them in office. This is our money they are spending on these worthless projects. President Obama pledged to stop this pork. When is he going to stand up and say enough is enough?
Vinnie from Central Islip, NY writes:
Jack, Due to our failing economy post-Bush, this is not the right time for President Obama to play the tough guy and veto this porky spending bill. The $7.7 billion in pet projects will help to create millions of additional jobs across the country.
Mike writes:
Cream puff of a question, Jack. Of course he should veto the bill. Otherwise he is just like all the other politicians he has been complaining about.