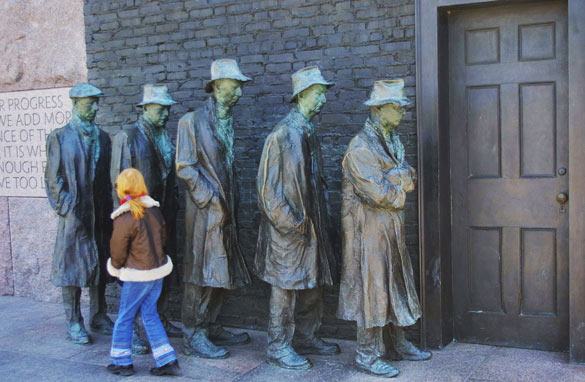 This sculpture of a 1930s era bread line captures the hunger and desperation many Americans felt during the Great Depression. (PHOTO CREDIT: MANNY CENETA/GETTY IMAGES)
FROM CNN's Jack Cafferty:
There's a 20 percent chance the U.S. will sink into a full-blown depression according to a professor of economics at Harvard University who has studied the economic cycles of the last 139 years.
Robert Barro writes in the Wall Street Journal that the most serious concern these days is that our economic downturn will become something worse than the largest recession since World War II. And he comes to the conclusion that there's a one-in-five chance that America's GDP and consumption will fall by 10 percent or more - something we haven't seen since the 1930s.
Barro found in his research that knowing a stock market crash has occurred sharply raises the odds of a depression - not good news for us, considering what the market has done since the fall of 2007 when the Dow was above 14,000.
However, he writes that the bright side of all this is there's an 80 percent chance we can avoid a depression - pointing out how the U.S. had stock market crashes in 2000 and 1973 and both times only experienced mild recessions.
Nonetheless, in the 59 non war depressions Barrow studied across various countries, he found an average length of almost four years, which could potentially push back a recovery until 2012.
Here's my question to you: How worried are you the U.S. will experience a full-blown depression?
Interested to know which ones made it on air?
Jim from North Carolina writes:
When you consider the manner in which the Bush administration spent our national treasure (and Obama is even worse), I am extremely worried about a depression. But what worries me even more, if we get through this period without a depression, is hyperinflation. I am afraid it is going to be very troubling either way.
Vern from Anaheim, California writes:
This could turn into a depression if the government isn't careful. I was not born until the end of the Great Depression of the 1930s but my parents told me about the long lines of people seeking work and food. People did anything to survive; it was a terrible time and I hope we don't have to go through it again.
Mike writes:
Keep posting questions like this and we will have one. A consumer economy is one based on consumer confidence and if consumers perceive and/or are worried about a depression, they will save rather than spend. If that is the case, we will inevitably have a depression. It's effectively a self-fulfilling prophecy.
Gretchen from Denver writes:
This country was so mismanaged for the past 8 years, it is altogether possible that we can not avoid a full-blown depression. The one thing we can be thankful for is that now we have a president who has a brain, and we all need to support him. He is smarter than the entire Congress put together and they all should quit trying to be experts on anything.
Barbara writes:
Not worried. I think it will turn around after 2 years. I have full confidence in Obama, but don't think it will happen immediately. As a small business owner, I look forward to health care reform, making it easier to cover my employees.
Darren from Fairbanks, Alaska writes:
It's downright depressing, and even worse when you can't afford your antidepressants!