From CNN's Jack Cafferty:
The California woman who had octuplets to go with the six children she already had continues to stir debate around the country. The latest comes from Georgia, where lawmakers want to prevent the same thing from happening in their state.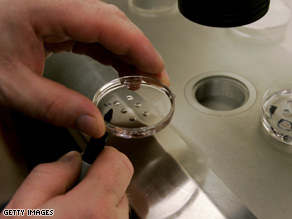 A Georgia state senator has introduced a bill limiting the number of embryos that can be used during in-vitro fertilization.
A state senator has introduced a bill that would limit the number of embryos that can be implanted in a woman's uterus during in-vitro fertilization. He doesn't want taxpayers to have to end up paying for raising children that result from multiple births if the parents can't afford it.
The limits would be two embryos for a woman under 40 and 3 for a woman older than 40. These numbers are slightly lower than what's considered normal by most doctors. Breaking the law could result in a fine of up to one-thousand dollars.
And it's not just Georgia. Missouri is considering a similar bill and laws just like this are already on the books in England and Italy.
Some fertility doctors suggest the proposed legislation would hurt a woman's chance of getting pregnant, that there are special cases where they need more than 3 embryos.
Critics also suggest this bill is a backdoor effort to ban abortion. That's because the bill says "a living in vitro human embryo is a biological human being who is not the property of any person or entity."
It's not likely to pass in Georgia anytime soon because of a crowded legislative calendar, but the fact that it's being discussed at all is cause for alarm in some circles.
Here's my question to you: Should the government limit the number of embryos a woman can have implanted?
Interested to know which ones made it on air?
Kat from Austin, Texas writes:
Implant as many as you want, as long as you can prove that you can provide for them without government assistance. If you expect the taxpayer to help you out then the taxpayer should get a say in this situation.
Derek from Grundy Center, Iowa writes:
The answer to almost every question starting with "Should the government..." is no. The states debating this issue would be better off changing their welfare programs to cover only 1 or 2 children in a family and let people deal with the consequences of their actions.
Kasey writes:
Yes. This woman is completely insane! She has burdened taxpayers with raising her children. To have one child through this process is one thing, raising a litter on the taxpayer's dime should be a crime!
Ray writes:
There should be zero in-vitro fertilizations. There are too many adoptable children out there who need a home and love. When that supply is exhausted, maybe IVF could be considered.
Kevin from Indiana writes:
Why not pre-qualify potential mothers similar to how we do adoption. Insure the ability to properly care for the child by the mother before moving forward with any fertility procedures!
Laura writes:
No, the government limiting the number of embryos would be the start of a slippery slope. At what point do we allow the government to make medical decisions for patients and for the medical profession? Where would the line be drawn and for whom?
Joy from Tennessee writes:
Jack, It's most difficult to say that the government should have control over a woman's body. However, when you have a "nut" like the octuplet mom and apparently a doctor with no scruples, it begs for intervention. Thus, my opinion is conflicted.
Cliff writes:
No, the government should not limit embryo implants. Doctors should.