From CNN's Jack Cafferty:
General Motors is looking for a handout once again - but not here. This time GM is hoping that Europe will drop a few coins in the collection plate.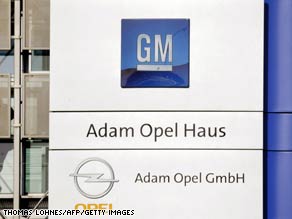 GM says its European divisions could collapse within weeks.
The struggling American auto company says its European divisions could collapse within weeks, unless governments across the pond step in to make sure it doesn't run out of money.
The company wants Europe to give them about $4.2 billion,saying the countries who host its car factories should share the "burden."
GM has had talks with the governments of Germany, the UK, Spain and Poland among others to ask for the money. They say if they don't get the aid - it could mean the loss of up to 300,000 jobs in Europe.
This all comes after GM asked the U.S. government for an additional $16.6 billion dollars in bailout money last month. That's on top of the billions it had previously received. As part of its restructuring plan - GM said it would lay off 47,000 people globally and close 14 plants in North America by 2012. The company also talked about reducing the number of brands in half, leaving only Chevrolet, Buick Cadillac and GMC.
Here's my question to you: Should European countries come to the aid of General Motors?
Interested to know which ones made it on air?
Bryan writes:
It depends on how desperately they want to save those 300,000 jobs. If I were a European and my government was bailing out an American company, I would be pretty upset.
Steve from Texas writes:
So don't help them. Then just drop European production and see how they like the job losses. If those "with" are supposed to help those "without", why shouldn't that apply to everyone? If the countries benefit from employment by GM, then line up to help.
Andy from Dekalb, Illinois writes:
They shouldn't get anything, from Europe or anyone else. What incentive exists for GM, or AIG for that matter, to do anything right when lemon socialism is the rule of the day?
Alex writes:
Of course they should. General Motors has learned that shaking down governments is more profitable than making cars.
Stephen in New York writes:
If Europeans deem it worthwhile to infuse billions of dollars into GM Europe, let them. The U.S. infusion of billions does not seem to have helped much.
Vince from Atlanta writes:
I think the European countries should help themselves to General Motors. Pay GM, and take over the plants. That should help everybody.
Jane from Minnesota writes:
If there are European factories involved, they absolutely should.
Michael in Perris, California writes:
Sure, why should we be the only ones to reward failure?
John writes:
I suspect that pretty soon GM will make their case for bailout to the African wild life population. This scam is going global.