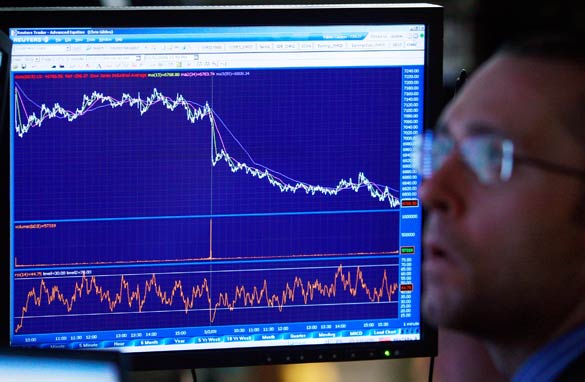 The stock market closed below 7,000 on March 2. The last time that occurred was in May 1997. (PHOTO CREDIT: GETTY IMAGES)
From CNN's Jack Cafferty:
As the stock market continues to drop, President Obama is running out of people to blame, according to an editorial in the Wall Street Journal.
Before the president took office, in early January, the stock market was over 9,000 its highest level since last fall. But in the last two months, it has dropped 25% to its lowest level since 1997. It closed today with a gain of 150 points.
The Journal suggests that Mr. Obama's policies are slowing, if not stopping, what would be a normal economic recovery. "From punishing business to squandering scarce national public resources, Team Obama is creating more uncertainty and less confidence," said the editorial.
The editorial takes issue with the way much of the administration's stimulus spending went to social programs rather than public works, how the Treasury has been managing the bank bailout plan, and how tax cuts were devoted to income maintenance rather than giving incentives to work or invest.
The Journal also points out how the market took a dive after the President announced his budget. The paper called it a "declaration of hostility toward capitalists across the economy."
The editorial suggests Democrats benefit from blaming all bad economic news on President Bush,
and there's a new poll out that shows Americans kind of agree with that. The NBC/Wall Street Journal poll shows 84% of those surveyed say this is an economy Mr. Obama inherited and two-thirds of those people think he has at least a year before he becomes responsible for it.
By the way - this poll also shows the president's favorability rating at an all-time high and the Republicans at an all-time low.
Here's my question to you: Should President Obama be blamed for the continuing fall of the stock market?
Interested to know which ones made it on air?