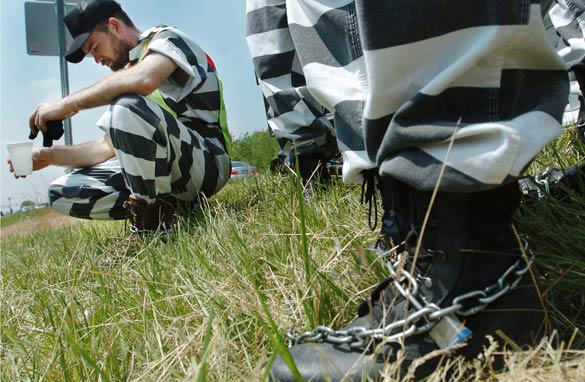 America's prison population has increased 274% over the last 25 years. (PHOTO CREDIT: MIKE SIMONS/AFP/GETTY IMAGES)
From CNN's Jack Cafferty:
7.3 million people in the U.S. were in jail, prison, probation or parole in 2007. That translates to one in every 31 adults in this country in the corrections system. This is very, very expensive.
The Pew Center is out with a report showing that America's prison population skyrocketed in the last 25 years, increasing 274%. We now have the highest incarceration rate and the biggest prison population of any country in the world. But we're a long way from solving the crime problem, and with the economy getting dramatically worse, look for crime to go up even more.
The report also shows blacks are more likely than whites or Hispanics- and men are 5 times more likely than women- to be in the corrections system. Southern states have higher correctional rates than other parts of the country, with Georgia topping the list.
The Pew Center says that it's choices in state policy that lead to having more people in prison - and that Southern states choose to give out longer sentences and put more people behind bars.
Also, the record prison population is getting more and more expensive for taxpayers. At the state level spending on corrections systems ranks second only to Medicaid. One expert says prison costs 22 times more than community-based corrections and suggests that states focus on supervising people with technologies like ankle bracelets or GPS.
Here's my question to you: What should be done to reduce America's prison population?
Interested to know which ones made it on air?
Casey from Sebastopol, California writes:
How about legalizing marijuana, creating truly GREEN jobs, taxing the hell out of it and letting all those pot smokers out of jail? Not only do you reduce prison populations significantly, you create a massive industry to boost the economy. And you'd do it without endangering the public, since the only crime associated with pot smokers has to do with trafficking an illegal substance. And, by the way, you'd also go far in reducing the force that drives the HUGE criminal activities on our Mexican borders.
Don from Las Vegas writes:
Go back to hanging criminals. Ever since we quit hanging people for crimes, crime went up. Steal a horse and you swung on a rope. Rape a woman and you were hanged! No real punishment and you are merely operating a housing community for criminals!
Griff writes:
If you make them bigger, they won't look so over-crowded.
I. writes:
Start chain gangs, deport the illegals, secure our ports and borders. Make these criminals earn their keep by working behind bars and on chain gangs. What about tent cities like in Arizona where inmates wear pink clothing?
Gustavo writes:
End the war on drugs. We need to reflect on whether preventing someone from getting high is worth all the trouble it entails.
Bruce writes:
Throw non-violent offenders out of jail. Find other punishments, like making them deal with FEMA or the IRS.
Zach in Jackson, Wyoming writes:
Give everyone ankle bracelets and let them stay at Bernie Madoff's house.