From CNN's Jack Cafferty:
President Barack Obama is saying "bring it on" to the nation's lobbyists.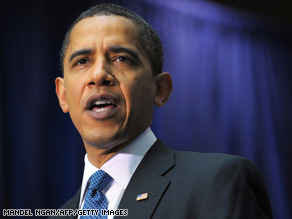 The President says passing the budget will be difficult because of pushback from special interest groups.
The president vows he will fight to change health care, education and energy policy in dramatic ways, upending the way business is done in Washington.
In his weekly radio address, Mr. Obama pointed out that the current system may work for the "powerful and well-connected interests" but that he works for the American people. The president believes his budget will help millions of Americans - but only if Congress can beat back special interest groups. He says he knows lobbyists are gearing up for a fight and says "My message to them is this: so am I."
Some critics say some of Pres. Obama's proposals are almost radical, but he insists this is what the American people voted for in November. He goes on to say passing the $3.6 trillion dollar budget won't be easy even with Democrats in control of Congress - precisely because of the pushback from special interest groups entrenched in Washington. The president singled out some groups in particular: insurance companies, banks, big student lenders and oil and gas companies.
Republicans have continued to slam the president's spending proposals, saying that almost every day brings another "multi-billion-dollar spending plan being proposed or even worse, passed." Of course the nation didn't elect the Republican candidate for president last November.
Here's my question to you: How can President Obama defeat the lobbyists?
Interested to know which ones made it on air?
Tom from Boston writes:
I don't know if he can "defeat" them Jack, but he certainly can greatly diminish their influence. To do so he must absolutely never let anyone in his administration take a dime from them for any reason.
Shirley writes:
Let's have some real light on the subject. Name the lobbyists, name the cause they are lobbying for, and name the legislators they are lobbying. Let's make sure the information is available to the public–on the network news and in the newspapers and on the net.
Nancy in Chicago writes:
Defeat lobbyists? This is the man who hailed the economic 'steal-from-us' package as the savior of our economy. He served every special interest project they could think of cramming into that package, before ramming it through. Who needs lobbyists with a president like that?
Richard in Kansas writes:
President Obama should pay attention to the only lobbyists that matter – the ones that elected him to get these things done. Do that and the special interests will find themselves marginalized.
DJ from Columbus, Ohio writes:
Jack, The president must be careful. If he defeats the lobbyists, he may very well be putting people out of work. The lobbyists, believe it or not, do work on the behalf of American workers. For example, I work for FedEx. I want my lobbyist, my advocate, fighting against any proposed legislation that may adversely affect my employer and/or industry, thereby threatening the security of my job. It is a catch 22 indeed.
Mead writes:
Jack, It's not a matter of how Obama can defeat the lobbyists; it's a matter of whether he can defeat them, and he can't. Lobbyists have been in DC long before Obama got there. They are far more entrenched than he ever was or ever will be, and they will be a force in national politics long after the Barack Obama Presidential Library is built.