From CNN's Jack Cafferty:
Signs that people have less disposable income these days are everywhere.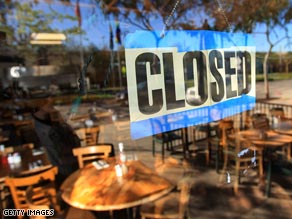 Restaurants are hurting as more Americans decide to stay in more.
Take for example the earnings at large retailers like Target - where profits were down 41 percent in 4th quarter of last year. Or Macy's - which fared even worse, with profits down almost 59 percent during that same time.
Some of the changes are more subtle but just as revealing. Wal-Mart says sales of starter sewing kits have shot up by 30 percent. Landscaping companies have seen their revenue drop 7 percent in the last year. And Procter and Gamble says more people are asking how to dye their hair at home - instead of spending more and going to the beauty salon.
In addition – a lot of people are anxious about the possibility of losing their home to foreclosure, and more than a million people already have. Ask anyone and they will likely tell you they are at least a little bit uncertain about their job. Will it continue? Will they be laid off? Will they be asked to take a pay cut or work a reduced schedule or will they just be fired outright?
The reasons for squeezing a nickel until the buffalo's eyes bug out are everywhere. (That's a variation on an old expression that can't be used on a family news program.) If people have a couple of extra bucks, they're probably inclined to hang onto it.
So as Friday rolls around and thoughts turn to the weekend...
Here's my question to you: In light of the economy, what's different about how you spend your weekends?
Interested to know which ones made it on air?
R. writes:
Before the economy turned south, I used to go out to eat, maybe buy a DVD or two, go to the movies, get together with friends and go skiing or go to Home Depot to get things for my home. But now I just sit in the living room drinking cheap beer worrying about getting laid off and wondering what it might be like living in my car.
Bill writes:
Can't afford to fly anywhere. Can't afford to drive anywhere. Can't afford tickets to anything. I'll spend my weekend sitting on the back porch watching my dog run in circles. Reminds me of the government.
Mike in Korea writes:
It's already Saturday here, and I'm doing what I always do on Saturday morning: watch The Situation Room, check my e-mail, and drink a cup of tea. I've never been a big spender on weekends.
P. in Arizona writes:
I have to spend more time with my bored wife because she is not out spending money. Who knows what the long-term effects of this might be?
Cindy writes:
As a 21-year-old college student, I have substituted large bar tabs with staying home and studying so maybe I can get a job when I graduate in May.
Tom from Bradenton, Florida writes:
Well, true capitalism has finally shown its real face and fleeced Americans. We stay at home, ride our bikes, enjoy the weather in Florida, sit outside, read, cookout. No more movies, eating out or going places. In a way, I enjoy it this way. Let the big companies feel the pinch after they pinched our wallets with their trash that came out of China. If the American consumer watches his money, the big cats get worried.
Anna writes:
We don't go anywhere and we don't do anything. We had to get rid of HBO, so we watch you guys instead. Now that's a good time had by all.