From CNN's Jack Cafferty:
President Obama is a preacher of doom and gloom when it comes to the economy, according to Dick Morris. He writes the president is making the crisis worse. "Instead of being a firewall, reassuring Main Street even as Wall Street crashed, he has become a conduit of panic, spreading the mood of desperation from the stock exchange floor to kitchen tables across the world," said Morris.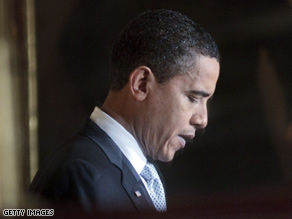 Dick Morris says the president has become a "conduit of panic."
Morris describes Mr. Obama as a "global Paul Revere" and says every time he speaks, he sends markets down and stocks crashing, and that the president doesn't seem to get the fact that the rest of the world takes its cues from him.
Dick Morris thinks the president is talking this way in order to keep people in a state of panic so he can pass through his agenda - from spending bills to tax increases to government regulations. He believes the longer the economy continues to deteriorate – the more difficult it will be to pass the blame off on President Bush.
Turns out a wide range of people have called for Mr. Obama to be more positive when speaking about the economy - including former President Bill Clinton , who suggested the president sound a more hopeful note. Others suggest that after years of President Bush painting an unrealistic, rosy scenario, Pres. Obama needs to tell it like it is, as he has been doing.
In his address to Congress this week - the president sounded more upbeat when he said we are not quitters - and that the U.S. will rebuild, recover and emerge stronger than before.
Here's my question to you: When it comes to the economy, should President Obama's message be more positive?
Interested to know which ones made it on air?
Ray in Nashville writes:
He told the country on Tuesday night that we would get out of this. It's hard to be more positive than that when all around us we see more job losses, business failures and banking troubles. If President Obama were to tell us that everything is ok, he'd sound like an idiot or a Republican... but I repeat myself.
BK writes:
He will keep fear mongering until he gets everything that he, Pelosi, and Reid want passed. Fear mongering works. He is doing the same thing Bush did. No change here.
Judy from Bangor, Maine writes:
You mean like "The fundamentals of our economy are basically sound"?
Wendy in North Carolina writes:
Jack, I'm in the advanced stages of MS so medical bills up the wazoo. My husband was laid off a year ago from his road construction job. We are trying to be responsible and hold on desperately to our very modest, small (in comparison) mortgage. The credit cards we've used for over 15 yrs, never late, just raised our interest rates to 30%. There is nothing 'positive' to say to us regular people who started suffering from the economy over a year ago.
Bob writes:
The president just has to be honest. Excessive rosiness is not necessary. We're Americans, tough enough to take the truth without gloss. Excessive gloom is also not necessary. We'll acknowledge his wins and losses objectively. He doesn't have to set himself up or cover his butt. Just be honest and fair and we'll do the same.
Theresa in Atlanta writes:
No. His assessment of the economy seems right on target. If it walks like a duck and quacks like a duck... Perhaps we could have pulled the nose up before we slammed into the ground if Clueless and Darth Vader had been a little less rosy with their rhetoric.