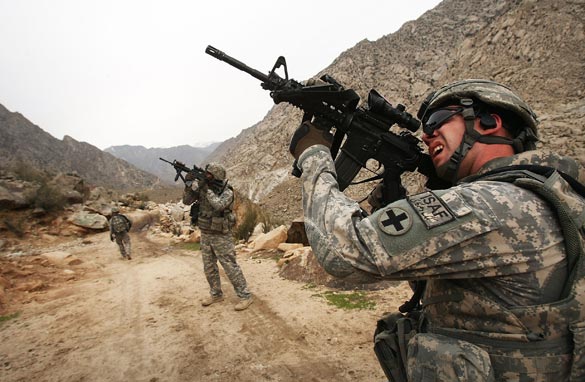 Soldiers with a joint U.S. Army, Navy and Air Force Provincial Reconstruction Team keep cover in Afghanistan's Shemgal Valley. (PHOTO CREDIT: GETTY IMAGES)
From CNN's Jack Cafferty:
The U.S. is losing the war in Afghanistan - so says Senator John McCain.
"When you aren't winning in this kind of war, you are losing. And, in Afghanistan today, we are not winning," said McCain.
The former presidential candidate says although he approves of President Obama's plan to send 17,000 more troops there. He thinks additional allied and Afghan troops will be needed to bat back a resurgent al Qaeda and Taliban. He's calling for the U.S. to set up a larger military headquarters and to boost nonmilitary assistance.
The Arizona Senator says that the situation in Afghanistan is nowhere near as bad as it was in Iraq - but that insurgent attacks were up sharply last year and violence increased more than 500 percent in the last 4 years.
McCain's comments come after those of Defense Secretary Robert Gates - who has said the U.S. faces "a very tough test" in Afghanistan, although Gates is confident we will "rise to the occasion."
A new CNN/Opinion Research Corporation poll shows most Americans agree with McCain... only 31% say the U.S. is currently winning the war in Afghanistan, although 62% say the U.S. can eventually win it.
Meanwhile - when it comes to the other war, the one in Iraq, McCain is among several Republicans backing President Obama's plan to pull most U.S. troops out by August 2010. McCain says the plan is a "reasonable" one and he's "cautiously optimistic" that it can lead to success.
Here's my question to you: Is John McCain right that the U.S. is losing the war in Afghanistan?
Interested to know which ones made it on air?