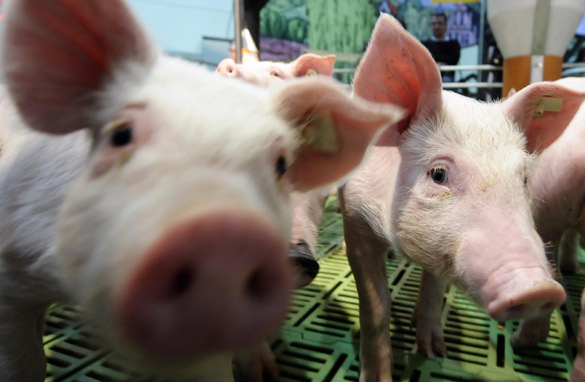 The $410 billion spending bill is filled with pork, including $1.8 million to research "swine odor and manure management." (PHOTO CREDIT: MICHAEL KAPPELER/AFP/GETTY IMAGES)
From CNN's Jack Cafferty:
The House of Representatives has passed a $410 billion spending bill - and it's been stuffed with pork by both parties.
The New York Times reports one watchdog group says the bill includes almost $8 billion for more than 85,000 pet projects. Among them:
– $1.7 million for a honey bee laboratory in Texas
– $1.5 million for work on grapes and grape products - including wine
– $1.8 million to research "swine odor and manure management" in Iowa...they could do the same research in Washington D.C.
-smaller ticket items include asparagus research in Washington State, wool research in Montana, Texas and Wyoming, rodent control in Hawaii... and on and on.
Democrats also earmarked about $40 million for the presidential libraries of Franklin Roosevelt, John F. Kennedy and Lyndon Johnson. The bill even includes earmarks requested by some lawmakers who are no longer in Congress.
Republicans pounced on the bill as wasteful, pointing out it comes just after the White House held that summit on fiscal responsibility. But Democrats say that 40% of the earmark spending went to projects requested by Republicans.
Democratic Congressman David Obey of Wisconsin defended earmarks, saying they were fully disclosed and a small part of the bill. He added that without them, "the White House and its anonymous bureaucrats" would control all spending.
House and Senate Democrats have already agreed on the bill - although Republican Senators could try to cut out some of the pork.
As for the White House, one official says "it's a big document. we are still reviewing it."
Interested to know which ones made it on air?
S. from Michigan writes:
It depends on what ends up being called an earmark and who calls it such. For the state or city getting the money, it is progress money or investment, for others it becomes pork or earmark, etc. For example, for Jindal, monitoring volcanoes is an earmark, but for Alaskans, monitoring hurricanes may be earmarks! So, should we stop both?
Kevin writes:
Earmarks can be wasteful, or incredibly valuable, just like any type of spending. Let's look at one of your examples: $1.7 million for honey bee research. This seems silly at first glance, however when you recall that there appears to be something wiping out the honey bee population, and that bees are necessary for crops like apples, peaches, soybeans, pears, pumpkins, cucumbers, cherries, raspberries, blackberries and strawberries, it quickly starts looking like maybe we should be pouring MORE money into this research.
Susan from Twin Falls, Idaho writes:
If earmarks are necessary, we better change the way we do business in all levels of politics. The time for responsible spending is way past due. Pet projects are taking food away from the hungry and jobs away from those who by no fault of their own have lost them.
Ed from Iowa writes:
Here in Iowa we're sure in need of some "swine odor and manure management" and I can tell you that for darn sure, since I live down wind of several hog farms. What you don't understand when you make fun of this is that it's a huge problem. Pigs are big business here, and their manure that could be used for fertilizer and bio-fuels instead just pollutes the air and the water. This is a smart investment that'll pay off in clean air, clean water, cheap food, and jobs.
BD from Boise, Idaho writes:
The 40% that the Republicans want are pure evil. The 60% that the Democrats want are absolutely necessary. Or is that the other way around? We're handing out so much money these days it is easy to forget which side of the aisle you're on.
And, we love to know where you're writing from, so please include your city and state with your comment.