From CNN's Jack Cafferty:
The Republicans trotted out one of their hopefuls for 2012 this week and he pretty much landed with a loud thud. Louisiana governor Bobby Jindal got lousy reviews from across the political spectrum after giving the Republican response to President Obama's address to Congress Tuesday night.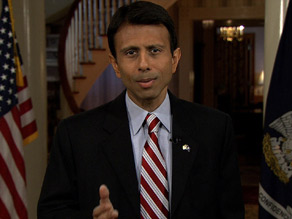 Some Republicans say Jindal came off at best off-balance and at worst downright amateur in his national debut.
The criticism even came from conservatives who have been promoting the 36-year-old rising political star as the person to revive the GOP. Some Republicans say Jindal came off at best off-balance and at worst downright amateur in his national debut. They're calling for the person who wrote Jindal's "cheesy" response and coached him to be fired and say Jindal shouldn't be allowed near a teleprompter again. Others point out that Republicans are looking for a "conservative version" of President Obama. Jindal ain't it.
Although some Republicans actually praised the content of his speech, others were left fuming at Jindal's swipe at government spending to monitor volcanoes. The mayor of Vancouver, Washington - which is in the shadow of Mount St. Helens - asks if Jindal has a volcano in his backyard. He points out that Mt. St. Helens is still very active and potentially dangerous.
In all fairness to Jindal, the opposition party's response rarely wins praise and politicians often come back from moments like these. But if Governors Bobby Jindal and Governor Sarah Palin are the great hope for Republicans in 2012, they might want to go back to the drawing board. And my guess is Mitt Romney is sleeping very well these nights.
Here's my question to you: Did Gov. Bobby Jindal help or hurt himself with his Republican response to Pres. Obama's address this week?
Interested to know which ones made it on air?
Ralph in Corpus Christi, Texas writes:
He hurt himself and his party. Jindal came across like Barney Fife in a tie. And, for him to scold federal funding for volcano monitoring and research is foolish. Would he scold similar funding for proactive research on California earthquakes, Texas tornadoes, or, say Louisiana hurricanes like Katrina that knocked out New Orleans?
Rob in Brooklyn writes:
You mean Mr. Rogers? The man is a male Sarah Palin: dumb, clueless and hopefully the future of the GOP. First of all, if you're going to make a rebuttal after the kind of speech Mr. Obama just gave, well you better be on top of your game. He sure wasn't. And what was that walking down the hallway about? It was just so poorly thought out – the whole thing. Very forgettable and an absolute joy to watch.
Ron writes:
He sure didn't help himself. But back in 1988, the keynote speaker at the Democratic National Convention gave a long and rambling speech that was widely panned and many pundits said any national ambitions this speaker had were killed. The speaker? Bill Clinton.
Katie in Springfield, Massachusetts writes:
He can't bring the dead back to life. And the GOP is dead right now, and that's where they'll stay unless they change their brand to mean anything other than "rich, white Christian people who say 'yes' to guns and 'no' to birth control" and won't help anyone less fortunate. Good luck to them – they've got a long way to go.
Tony writes:
I'm a Democrat and I even felt sorry for the guy!
Ruthie writes:
Hurt. He sounds like a cross between Mr. Rogers and Elmo. It was a painful 15 minutes. He was completely pointless. He needs a new speechwriter.
Jim writes:
He came across as another clueless, anti-science George Bush wannabe. And we're still paying the price for the last one.