From CNN's Jack Cafferty:
A bank that got $1.6 billion dollars in government bailout money sponsored a series of "lavish parties" during a golf tournament in Los Angeles last weekend.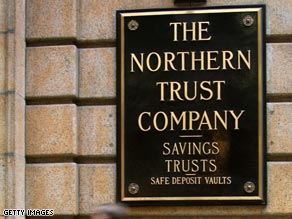 Northern Trust Bank sponsored a series of "lavish parties" in Los Angeles last weekend.
Chicago-based Northern Trust bank spent millions of dollars sponsoring the tournament and associated client events. The website TMZ reports that this included dinners, concerts by Sheryl Crow and Earth,Wind and Fire, a private party at the House of Blues and gift bags from Tiffany. Also, hundreds of people were flown in and put up in luxury hotels.
A Northern Trust official confirms to CNN that the bank sponsored the events, but not on the taxpayers' dime. He said the bank is healthy and didn't ask for TARP money, but entered the program at the request of the government. He added that their "normal cash flow" - and not TARP funds - paid for the event.
But the bank's explanation may not be enough for some. Congressman Barney Frank is writing a letter to Northern Trust calling on it to pay back the money it spent on these events. Frank says this behavior demonstrates "extraordinary levels of irresponsibility and arrogance." And in the Senate, John Kerry says he'll introduce a bill this week to end what he calls the "extravagant spending practices" of banks getting taxpayer money. Under his legislation – banks wouldn't be able to host, sponsor or pay for conferences, or holiday or entertainment events in the year they get government funds.
In December – Northern Trust announced plans to cut 450 jobs this year.
Here's my question to you: What message does it send when a bank that got $1.6 billion in bailout money throws lavish dinners, parties, and concerts?
Interested to know which ones made it on air?
Karen in Tennessee writes:
I was told by someone in the banking business that it is very expensive to cancel an event like this, which is under contract for several years, but who cares? Northern Trust had no business accepting bailout funds under these circumstances, and even if they hadn't, it was an offensive display of excess. I hope everyone contacts their state representatives to demand the monies be returned, as I did two days ago.
Mike writes:
The bank was not "bailed out." They did not want the money. The Treasury wanted all the major banks to take some of the bailout money so it would not be obvious which banks really needed the money. The banks should be able to do what they want with their money. If the government doesn't like it, they should not give the money to them in the first place.
Nelson writes:
No matter how you spin it, and even if the intentions were good, having bailout money puts you in the crosshairs. Right now, people are mad at the banks and holding Wall Street responsible for this recession. No amount of spin is going to make this look good.
Susan writes:
The message it sends is the same message big bankers have always sent, that they live in a different world from the rest of us and will spend our money as they choose with total disregard for the difficulties of others, including their customers or the taxpayers. We always knew they were greedy. Now we know they're greedy, stupid and lack any sense of morality whatsoever.
Kevin writes:
This bank never asked for any money. Maybe Barney Frank should look things up before he opens his big mouth.
Mac from Traverse City, Michigan writes:
The message it sends to me is the management of this bank graduated from the Dick Cheney School of Compassion and the Republican University of Ethics.