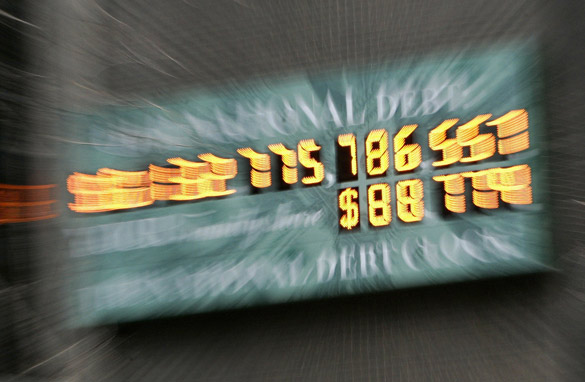 The National Debt Clock in New York City. President Bush increased the national debt more than all previous presidents combined. (PHOTO CREDIT: TIMOTHY A. CLARY/AFP/GETTY IMAGES)
From CNN's Jack Cafferty:
In the Republican response to President Obama's speech last night, Louisiana Governor Bobby Jindal called the stimulus package "irresponsible". He said it will grow government, increase taxes in the future and saddle future generations with debt.
"Who among us would ask our children for a loan, so we could spend money we do not have, on things we do not need? That is precisely what the Democrats in Congress just did," said Jindal.
Interesting, after the last 8 years, it would seem that Republicans are hardly in a position to lecture anyone about fiscal responsibility. When President Bush took office in 2000, the national debt was about $5.7 trillion dollars, which after two wars and lots of other spending, is now approaching $11 trillion. President Bush ran up more debt for this country than all previous presidents combined.
Jindal acknowledged last night that in recent years, "our party got away from its principles." No kidding.
Keep in mind, Jindal - who some see as a possible contender for his party's presidential nominee in 2012 - is one of the Republican governors talking about rejecting stimulus funding for his state. Jindal says he plans to turn down $100 million because it would require his state to change its unemployment laws. I guess when you're a wealthy state like Louisiana you don't need no stinking stimulus money.
Here's my question to you: Are the Republicans in any position to lecture President Obama on fiscal responsibility?
Interested to know which ones made it on air?