From CNN's Jack Cafferty:
As President Obama gets ready to address a joint session of congress tonight - he'll also be talking to a nation that's pretty uncomfortable about where we're headed.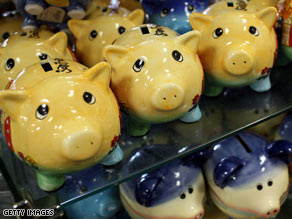 Piggy banks and money boxes are gaining popularity as people are starting to save their money at home.
A new CNN-Opinion Research Corporation poll shows 71% of Americans are angry about where we're headed. And 73% are scared. These are not encouraging numbers. Also – 79% of those surveyed think things in the U.S. are going badly.
The silver lining is that most people are still upbeat about their own personal situation - with 77% saying things are going well for them.
Nevertheless, we're being warned that these rough economic times are far from over. Federal Reserve chair Ben Bernanke says he hopes the recession will end later this year - but a full economic recovery could take two or three more years.
And many Americans are reshaping their lifestyles to adjust to these shaky circumstances. They're downsizing and actually trying to live within their means – instead of the culture of credit that was the rule of the land for too many years. Many are saving more. Others are trying to figure out how to get by on one less salary while trying to pay rising bills for things like health care and education. All the while sitting on a home that's lost much of its value.
Here's my question to you: How has your daily life changed because of the economic crisis?
Interested to know which ones made it on air?
Ann in New Hampshire writes:
Jack, We are doing okay for now. We are young enough to wait for the market to come back and replenish our 401ks but we are definitely spending less. My mother lost her job, she is 63, and we are looking at what we will need to do to help with her meds now that she has no insurance and possibly housing, etc. We worry though for our jobs, etc. And how much worse things get for the country.
Craig writes:
I have stopped using credit cards and have started debt management. I got cheaper car insurance. I started doing more freelance work on the side in addition to my day job.
Steve in California writes:
The current economic crisis is proving to be the most effective contraceptive for us. The decision to have or not have kids has become a point of daily discussion.
Kim writes:
Not much because we've always lived within our means. Always needs first and wants if we have a lot of extra. Still I'm more afraid to do any wants because you don't know what's going to be hiding in the corner. Save, save, save.
Paul from Columbia, S.C.
I became a hermit 4 years ago when I got rid of a gold digger girlfriend, my car, my home, retired after 50 years, and now live within my meager means. It's great to be out of the rat race.
Jonathan writes:
Since being laid off last month, I've spent a lot of time getting to know the delightful banter that you and Mr. Blitzer share each evening. It took a while to get the hang of, but you guys may be onto a dialogue style which might fill the void of the network news anchor.