From CNN's Jack Cafferty:
Here's a sign of just how bad things are: when it comes to the economy, more Americans trust our politicians than our business leaders.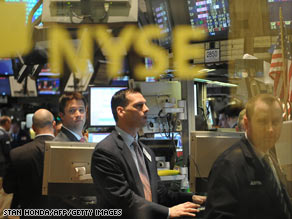 Traders on the floor of the New York Stock Exchange. More Americans trust politicians than business leaders on economic matters.
A new CNN/Opinion Research Corporation Poll asks people how confident they are that the following institutions will make the right economic decisions.
30% say they're confident in Wall Street, 28% feel that way about bankers and financial executives, and 26% are confident in the auto executives.
Compare that to a whopping 75% who express confidence in President Obama on economic issues, 66% who back Democrats in Congress to make the right calls, and 53% who feel the same about Congressional Republicans.
In light of that, it's no surprise that most people surveyed are opposed to government bailouts for banks and auto companies, while more actually favor government assistance to homeowners who can't pay their mortgages and government influence to lower health care costs.
This is probably uncharted territory for many of those in Washington. The fact that more Americans have confidence in government to get us out of our collective financial nightmare frightens me.
Here's my question to you: What does it mean when politicians are more trusted than business leaders on economic matters?
Interested to know which ones made it on air?
David from Granville, Ohio writes:
Jack, Who would you rather see as CEO of Citibank? The moron who currently holds that position or Barack Obama? Duh! It is no wonder that we trust the Obama administration far more than the greedy, insensitive, out of touch idiots who currently run the show. Obama has three major qualities: extreme intelligence, an incredible confident calm in the face of a storm and huge quantities of luck. (Read "Audacity of Hope" to see how lucky he is.) Of these, the third one may turn out to be the most important.
Mari from Salt Lake City writes:
That is funny! However I am not surprised. It is plain to we the people that the banks and Wall Street can not be trusted, that they are crooks who get away with stealing! Look at Madoff sitting in his posh NY apartment! The man is a criminal and should be in a New York City jail! But no.... there are two systems of justice in our Nation, one for the regular people and one for the rich! WHY are we not out in the streets demanding that the crooks be jailed?
Davonne from Easton, Pennsylvania writes:
It's quite obvious. The big guys in Wall Street have stabbed us taxpayers in the back. We give them billions of dollars. They turn around and reward themselves with millions of what we just gave them. They spend millions to decorate their offices. They buy private jets, while demanding that they keep their bonuses for accomplishing… We look to Capitol Hill as they are the only ones who can help us, the little guys.
Chris from Buffalo, New York writes:
It means the powerful in Washington have us exactly where they want us.
Greg from Ontario writes:
Jack, The time to worry is when politicians are trusted more than the media.