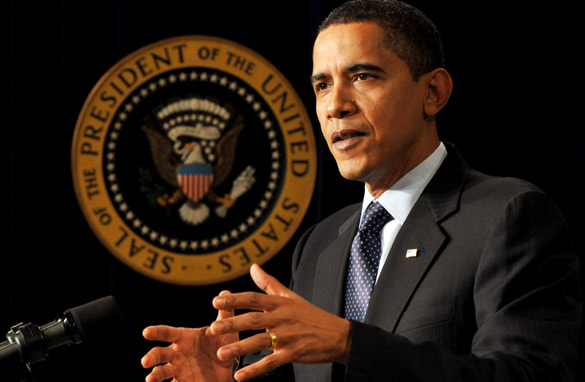 What should the president say before Congress? (PHOTO CREDIT: GETTY IMAGES)
From CNN's Jack Cafferty:
Most Americans are hungry to hear what President Barack Obama has to say about the economy when he addresses a joint session of Congress tonight.
A new USA Today/Gallup poll shows 74% of those surveyed are eager to hear the president talk about the economic challenges facing our country.
That includes 18% who want to hear about jobs, job creation or unemployment, 15% who want information about the banking crisis or bailout, 14% who want to hear more about the $787 billion stimulus package. 11% want the president to talk about the housing crisis and 10% who cite health care.
Outside of the economy, some other issues mentioned are the wars in Iraq and Afghanistan, education and illegal immigration.
The New York Times suggests that the president's challenge tonight is to declare that "out of ugly necessity" big government is back. But if done right, it won't last for long. The hardest part will be for the president to convince Americans they can't save themselves without first saving "the banks that let greed blot out prudence, the carmakers who ignored competitive reality for a quarter-century, and the homeowners who somehow persuaded themselves that housing prices only move up."
It's a tall order even for Mr. Obama – who's no slouch in the oratory department. Amidst all the rotten economic news – he will need to be at once reassuring and realistic.
Here's my question to you: What do you want to hear from President Obama tonight?
Interested to know which ones made it on air?