From CNN's Jack Cafferty:
Secretary of State Hillary Clinton is calling on China to keep buying U.S. debt.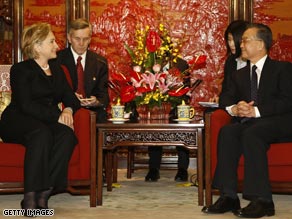 Secretary Clinton urged the Chinese government to continue buying U.S. debt.
During her first overseas trip as the country's top diplomat, Clinton asked Beijing to keep purchasing U.S.Treasury bonds despite our deteriorating economic condition. She also talked about the importance of the administration's economic stimulus package. Clinton says because our economies are so intertwined, it could hurt China if the U.S. couldn't finance the nearly $790 billion stimulus plan.
"We are in the same boat. Thankfully, we are rowing in the same direction, toward landfall," said Clinton. She added that China and the United States "are truly going to rise or fall together."
But this call from the Obama administration shows just how the balance of power is shifting between the U.S. and China. If the Chinese decided to stop buying our debt, or if they decide tomorrow to cash out the more than $1 trillion they already own, we'd be in deep trouble.
The Chinese Foreign Minister didn't promise to keep buying our Treasuries. Instead he said his government would buy the bonds if they continue to represent the best investment when it comes to value, low risk and liquidity.
Meanwhile, although Clinton made clear her support for human rights, she didn't take any meetings with high-profile dissidents. Perhaps now is not the time to tick off the Chinese government- when we're asking for hundreds of billions of dollars.
Here's my question to you: What would happen if China suddenly stopped buying U.S. Treasury bonds?
Interested to know which ones made it on air?
Julie writes:
Our economy would certainly fall apart. I'm more worried about what happens when China realizes that to a certain extent, they have more power in this situation than the U.S. does and asks us to start paying them. If China took charge this minute, we'd be a third-world country in a matter of days.
Bill from New Jersey writes:
I guess if they stop buying our paper, it would be real bad. On the other hand, how much better would it be if they keep buying it? As little as I like owing my soul to a US bank, I detest the idea of having it in hock to a Chinese one even more.
Luis from Miami writes:
Now we see how vulnerable we've become to China. We're afraid to even speak the truth to them about human rights because of what they could do to us economically. We've gotten ourselves into quite a deep pit.
Bill from North Carolina writes:
What if China stops buying U.S. debt? ... Then we stop buying Chinese products and both countries go under.
Scott writes:
If the Chinese stop buying debt, the US government MIGHT finally have to balance its books, quit giving lavish pay and benefits to unnecessary government workers, and get back to doing the people's work. Short-term pain, but long-term gain if the vampires in DC didn't have a source of funds for the massive debts they've run up in the past 20-30 years.
Jason in New Orleans writes:
If China stops buying U.S. debt, we're all screwed. So, they won't stop. Secretary Clinton was right. We're so closely tied together that we will rise and fall together.
Dave writes:
If China stopped loaning us money, I would wonder if the Saudis would step up and loan us money. The real question isn't who can answer the 3am call, but who is on the other end of the phone and will they accept a payment plan.