From CNN's Jack Cafferty:
Have you noticed it's become nearly impossible to wake up in the morning without hearing about another big-time bailout by the federal government?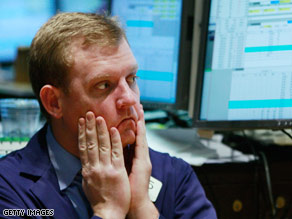 The stock market takes a hit every time the government announces a new initiative.
President Obama recently signed the almost $790 billion economic stimulus bill. His Treasury Secretary Tim Geithner unveiled the bank bailout plan that could mean another trillion dollars spent on bailing out our nation's drowning financial institutions. That's on top of the $700 billion financial bailout package from last fall.
Then there are the auto companies – they were back in Washington this week wanting another $21.6 billion of your money, on top of the more than $17 billion they got last fall. Then there's the administration's $275 billion plan to help up to 9 million struggling homeowners refinance or modify their mortgages so they don't lose their homes.
If these dizzying numbers aren't enough to give you a headache, how about the fact that the stock market keeps tanking every time the government announces a new initiative? Yesterday the Dow closed at its lowest level in more than 6 years and today it took another big hit. Investors are nervous that the government won't be able to right our economic ship, despite the trillions of dollars it's pouring in.
All of which has probably left millions of Americans either pulling their hair out or reaching for the Jack Daniels.
Here's my question to you: What are the signs you're suffering from bailout fatigue?
Interested to know which ones made it on air?
Anthony from Wildwood Crest, New Jersey writes:
That's a great question. I'll let you know right after I drink a shot, have a Xanax, and tell my kids instead of going to Disney, they are going to watch it!
Bruce writes:
If you give your son his allowance and ask him how much of it is going to infrastructure. Or, if you think Alan Greenspan just made an interesting observation, you may be suffering from bailout fatigue.
Kelvin writes:
Fatigue? What fatigue? Are you kidding, Jack? I have PMS everyday and I am not even a woman. Do they make a medicine for that if you are a man?
Bill writes:
I started watching more CNN and agree with Cafferty.
JD in New Hampshire writes:
Bailout fatigue is when I make the check out directly to a rich C.E.O. and bypass the I.R.S., all the time wondering how I'll buy groceries.
John writes:
When you start watching FOX news and believing it.
Adrian writes:
When you find yourself wondering what happened to Paris Hilton.
Kevin writes:
I went to the store and they were out of Jack Daniels!
Marilyn writes:
For sheer escapism, you actually watch The Real Housewives of Orange County....in repeats.
Chris from Savannah, Ga. writes:
Whenever I hear the word "crisis or catastrophe", I hold onto my wallet.
Mitchell in Arkansas writes:
When yer standin' in line with 20 other formerly wealthy Republicans at the hardware store and asking, "How much fer some of yer rope?"
John writes:
You're probably suffering from bailout fatigue if you sit, bolt upright in your bed tonight and say, "I'm Wolf Blitzer and you're in the Situation Room. Happening now- North Dakota bails out California and New York buys Florida."