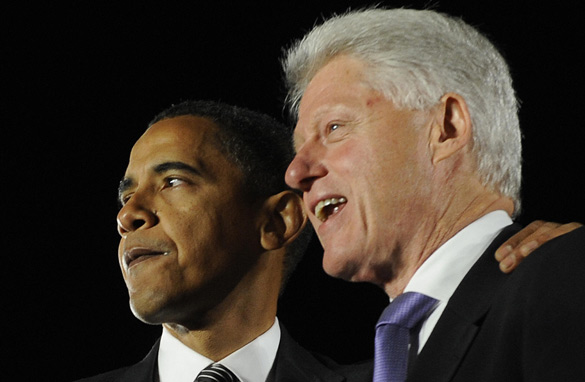 Is Bill Clinton's advice helpful? (PHOTO CREDIT: EMMANUEL DUNAND/AFP/GETTY IMAGES)
From CNN's Jack Cafferty:
It didn't take long at all for Bill Clinton to get in on the act. A month after his wife was sworn in as Secretary of State, the former president is out with some advice on how President Obama should handle his job.
In an interview with ABC News Clinton gives the new president an "A" for his first month in office yet says he should put on a more positive face when talking about the economy. Clinton says he likes the fact that Mr. Obama didn't come out with a bunch of "happy talk" about the economic crisis. He added, "I just want the American people to know that he's confident that we are gonna get out of this and he feels good about the long run."
And he had more pearls of wisdom. Clinton went on to say that President Obama should talk to the public in greater depth about the economic crisis, saying he should lay out the full scope of what's going on but end by saying he's "hopeful and completely convinced" that we'll make it out okay.
Here's the issue: this is exactly what many Obama supporters feared would happen if he brought Hillary Clinton on board as vice president, or in any cabinet position for that matter. It's the old "two for the price of one", and it's probably just about the last thing Barack Obama needs right now.
Here's my question to you: How helpful is it for Bill Clinton to publicly give President Obama advice on how to do his job?
Interested to know which ones made it on air?
Doug in Bloomington, Indiana writes:
Past presidents are a valuable and unique source of insight, advice and wisdom. If I were elected president, I would invite those guys over for a beer on a regular basis. So unless Obama is a bigger egomaniac than he is wiling to admit, this won't be a problem for him.
Michael writes:
Jack, Bill Clinton is the guy who retires from a company after 20 years of service, but still shows up every day just to let people know he can't be replaced. Bill, we get it, you were a great president, now can we get back to work!
Carol from Butte, Montana writes:
Well, it can't hurt to put on a more positive face, especially if his own attorney general persists in upbraiding Americans as "cowards".
Richard from Kalamazoo, Michigan writes:
The president already has enough trouble on his hands wondering what Biden will blurt out next. He doesn't need double trouble, which Clinton might give him at any time. Clinton's time has come and gone. Anything he has to say should be kept private.
Christopher writes:
Since Clinton was the last successful president of the United States, of course Obama should take advice from him.
Mark writes:
Bill just can't help himself. He has to be the center of attention. If he wants to help President Obama, pass the advice privately. I'm sure Hillary will take his call if he can't get Barack's blackberry number. There is a reason we only have one president at a time. The job of ex-presidents is to go to funerals when the VP isn't available. Earth to Bill, shut up and go home.
Will from California
Jack, How helpful would you find it if Wolf started telling you how to do your job?
E. writes:
Jack Cafferty is dumb and ignorant. He is so fascinated by Bill and Hillary Clinton that he loses his mind. CNN: Please fire Jack Cafferty. He makes your network stink!