From CNN's Jack Cafferty:
The Democrats gained control of Congress in 2006 by effectively hammering Republicans over a "culture of corruption". But as the Associated Press points out - that very same theme may wind up now biting the Democrats in the you-know-what.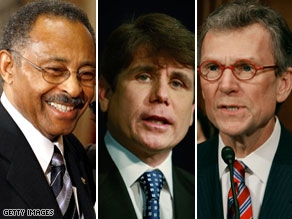 Burris, Blagojevich, and Daschle have all been entangled in ethics scandals in recent months.
When it comes to ethical behavior, it turns out Senator Roland Burris of Illinois is only the latest in a pretty long line of embarrassments. Burris now admits he tried to raise money for ousted Governor Rod Blagojevich - who allegedly tried to sell Obama's former Senate seat. Blagojevich was, of course, another black eye for the Democrats.
Then there's New York Congressman Charlie Rangel - he's the subject of a House ethics investigation for a couple of different issues.
And Pennsylvania Congressman Jack Murtha is under scrutiny, as well... since the feds raided two defense contractors that got millions of dollars in funding from Murtha.
Then come the Democrats with tax "issues". Both Tom Daschle and Nancy Killefer stepped down from potential posts in Pres. Obama's inner circle. And Treasury Secretary Timothy Geithner was confirmed only after it was revealed that he had failed to pay some of his taxes.
Another would-be cabinet member, Bill Richardson, didn't make the cut due to a grand jury investigation. And the president had to waive his own ethics regulations regarding lobbying ties in order to confirm William Lynn as Deputy Defense Secretary.
During the campaign last fall, Obama struck a chord with the American people when he vowed to clean up Washington and change the way business is done.
Here's my question to you: Are the Democrats threatening to self-destruct over ethics issues?
Interested to know which ones made it on air?