From CNN's Jack Cafferty:
Congress' approval rating is higher than it's been in almost 2 years. It's not like they are suddenly loved, but they have managed to crawl out of the gutter, barely.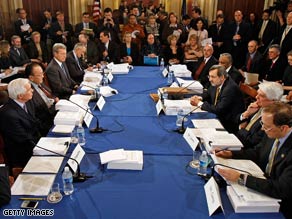 31% of Americans approve of the job Congress is doing.
The latest Gallup poll also shows Congress' rating jumping up 12 points from last month. 31% of Americans approve of the job Congress is doing now, compared to 19% who felt that way in January.
31% is a long way from stellar but Congress' approval ratings have pretty much hovered below 30% since late 2005. And recently, the ratings have been even more dismal - at around 20% and they hit an all-time low of 14% last summer under the astute leadership of Nancy Pelosi and Harry Reid.
Gallup suggests the increase this month is due to Democrats looking more favorably upon Congress since the inauguration of President Obama. Democrats' approval of Congress went from 18% in January to 43% this month. On the other hand, Republicans are now less likely to approve of Congress than last month.
It's possible that more Americans are giving a thumbs-up to Congress because they approve of the work their representatives are doing - namely passing that massive economic stimulus bill rather quickly through both houses.
Here's my question to you: Why has Congress' approval rating suddenly improved?
Interested to know which ones made it on air?
Terry writes:
They're working more than they have in the past 29 years. At this rate, they may actually earn part of their salaries, but they have a long way to go to actually earn all of it.
Nelly from Fort Lauderdale, Florida writes:
Obviously because of Barack Obama. Look what he's done in four weeks. He's moving, Jack. Fast too, and Congress has to go right along with him. Something Bush wasn't doing.
Jim in Chicago writes:
Simple Jack, with more Democrats in Congress and some Republicans (albeit few) willing to put country ahead of party, we are finally breaking through the obstructionist conservative strategy that has stood in the way of real progress since 2006.
Jeff from Glen Carbon, Illinois writes:
It certainly isn't because we have decided that they are mature adults who can act in a bi-partisan manner.
Phil from Pennsylvania writes:
I believe the approval rating of Congress appears to be rising but really it's just their disapproval rating decreasing. I have never talked to a single person in my life that "approved" of the actions in the U.S. Congress. So I have to assume this means people are simply less disgusted than usual.
David from Fishkill, New York writes:
Why, Jack? Because even a blind squirrel gets a nut once in a while. As far as I'm concerned, they still have a ways to go before I trust them.
Pam from New York writes:
It's a mystery to me. If the only prerequisite to a better approval rating is signing a trillion dollar bill that has not been read, discussed, nor debated thoroughly, then God help us.