From CNN's Jack Cafferty:
Alaska Governor Sarah Palin owes back taxes on almost $17,000 she received from the state in per diem funds while living at her Wasilla home.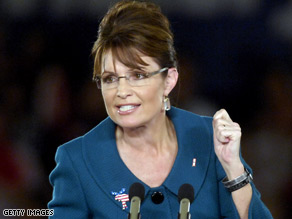 Palin's office won't say how much she owes, saying it is a personal matter.
The state decided this week that the payments were not legitimate business expenses and that employees must treat them as income subject to taxes.
You may remember the revelation of these payments became an issue in last year's campaign. It didn't exactly jive with Palin's so-called image as a government reformer. At the time, her office insisted she was entitled to the per diem payments.
Palin collected most of these payments before being named to the GOP ticket as John McCain's running mate. The expenses were paid when she stayed at her Wasilla home and commuted to her Anchorage office instead of staying in the governor's mansion in Juneau. The AP found that Palin continued to charge the state for meals and other incidentals after losing the general election in November.
Palin's office says they don't know if she's still collecting a per diem or will continue to do so. They claim her taxes are a personal matter and won't say how much she owes.
The Alaska Governor had also previously charged the state more than $21,000 for having her kids travel with her, saying they were acting on state business.
Here's my question to you: Should Governor Sarah Palin have to disclose how much money she owes in back taxes?
Interested to know which ones made it on air?
Austin writes:
Yes. We know how much Daschle and Geithner owed. Why not Palin? And, by the way, where's the outrage from Republicans calling for her resignation? Funny how paying taxes isn't such a fiendish issue when it's one of theirs.
Wally from Las Vegas writes:
Gov. Palin has been caught skirting the very laws she has sworn to uphold. She knows perfectly well charging per diem while being at home and writing off charges for family members, travel, lodging and food is wrong. She feels she is the exception to all the rules.
Bill writes:
Do the math, Jack. You already know how much she received. It shouldn't be too difficult, especially for a Democrat, to figure out how much the taxes owed are. Still not sure? Ask anyone from Obama's cabinet. They seem to be experts on back taxes anyway.
Eric from New York writes:
Hey, Jack. I got a great idea! Let's take up a collection to pay her back taxes for her on the promise that she will take her family and move to another country, never to return!
George from New Hampshire writes:
Of course, Jack, you blithering fool, she should disclose her back taxes. Come to think of it she would make a perfect cabinet secretary for President Obama. She can exchange tax ideas with Tom Daschle, Tim Geithner and a few others. Viva Sarah!
Tim writes:
She should not have to pay back taxes. She should have to pay the 17k back in full to the state, with interest. Per diem is paid outside of a normal salary. If they just add it to her salary, she, in effect, gave herself a 17k raise. I would more than happily pay some taxes on money if I could decide how much to give myself.
Chryssa from Boise, Idaho writes:
Yes, but not till she runs again in 2012. I want it to be fresh in her supporters' minds.
Gary from South Carolina writes:
I prefer she didn't. In fact, I wish I would never hear anything from her again. It would be worth $17,000.