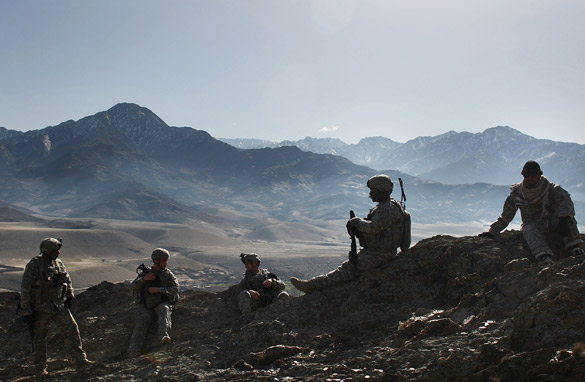 American soldiers search for caves concealing weapons in eastern Afghanistan. (PHOTO CREDIT: GETTY IMAGES)
From CNN's Jack Cafferty:
President Obama has decided to send another 17,000 U.S. troops to Afghanistan. More than 7 years into the war there, this move will increase U.S. troop levels by 50%. The president insists that "urgent attention and swift action" are needed to fight a resurgent Taliban and al Qaeda. The increased troop levels are expected to last 3 to 4 years.
American and NATO casualties – along with Taliban attacks- were at record highs last year. War-related civilian deaths were up almost 40%.
Although Mr. Obama hasn't made a call yet on troop cuts in Iraq, his decision will move troops to Afghanistan who had been scheduled to deploy to Iraq. The president has said he wants to limit objectives in Afghanistan. These new troops will be headed to southern and eastern regions, will help train the Afghan army and help provide security for the August elections.
The U.S. commander in Afghanistan had actually asked for more than 30,000 additional troops, which would have doubled the current force.
A tough decision – one of many – made by the new president these days, especially when you consider the public may not be behind escalating our military effort in Afghanistan. Recent polls shows 34% of Americans think the U.S. should send more troops there. 29% call for a decrease. Also, only 18% of Afghans think we should step up our presence – not exactly a warm welcome.
Here's my question to you: Is a prolonged American military presence in Afghanistan a good idea?
Interested to know which ones made it on air?
Matthew from New York writes:
A prolonged military presence in any area is never a good idea. I wouldn't want the Afghan Army in my country for one day, let alone months. I know we have to try and sort that region out and clean up the mess that we made, but let's keep it brief.
Wesley from Atlanta writes:
Yes, of course we need more troops in Afghanistan. The Bush administration took their eye off the situation there and invaded Iraq. Now that the situation there is a lot better, it's time to finish the job in the "right" war.
Ryan writes:
If we just push the Taliban back into Pakistan, and Pakistan can't or won't put the same pressure on, then what's the point? I thought we declared a war on terror, anywhere on the planet. Except where the terrorists are, I guess.
Michael from Toronto writes:
Well, if Obama says it's a good idea, it must be a good idea. THE ONE should never be questioned. I'm glad THE ONE doesn't play a role in Canadian foreign policy; Canada is getting out next year!
Patrick from Austin, Texas writes:
The United Nations should be leading this effort, not the U.S. We should have some forces there, but we should not carry the burden of rebuilding this country. If they want to be free, they need to fight for it like we did.
Lawrence from Illinois writes:
Bring them home. Why do we feel that we need to meddle in everyone's business? We are not wanted there either, just as we were not wanted in Iraq.
Sly from Alpena, Michigan writes:
Let us not forget 9-11 and who was responsible for it.