From CNN's Jack Cafferty:
Two of the Big Three American automakers are holding out their hands again for more of your taxpayer dollars.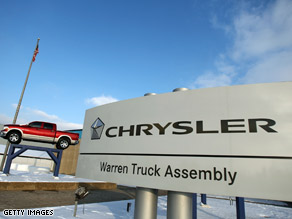 Chrysler will discontinue the Dodge Durango, PT Cruiser and Chrysler Aspen.
General Motors and Chrysler say they need another $21.6 billion to stay afloat, this is in addition to the more than $17 billion they received a couple months ago. The companies have both put out plans for how they'll restructure in order to survive. I thought they were supposed to have already done that.
G.M. says it will cut 47,000 more workers, close 5 more plants in North America and cut half of its brands - Saturn, Pontiac, Hummer and Saab - leaving them with only Chevrolet, Buick, Cadillac and GMC. The company also says it's making headway in its talks with the United Auto Workers union and bondholders to find more ways to cut costs. Chrysler says it will cut another 3,000 jobs and discontinue 3 models - the Dodge Durango, PT Cruiser and Chrysler Aspen.
Meanwhile, this all puts the Obama administration in a tricky spot. Either they give the money and hope that the car companies don't come back asking for more in a few months. Or they say "no", which will probably force GM and Chrysler to declare bankruptcy. Both companies pointed out that the cost of a bankruptcy reorganization would be a whole lot steeper than their most recent loan requests.
The White House says it's reviewing the automakers' proposals and insists that "more will be required" from all parties involved to turn around their prospects.
The third Detroit company – Ford Motors – posted its biggest loss ever in the fourth quarter, but insists it can survive without government loans.
Here's my question to you: Should General Motors and Chrysler be given additional taxpayer money?
Interested to know which ones made it on air?
Tom from Switzerland writes:
Apply the thumbscrews really hard: Don't give them another dime except for the development and production of highly fuel-efficient and alternative energy vehicles. Otherwise put them out of their agony and let these obsolete dinosaurs go extinct. The planet will breathe a lot easier.
John from New Hampshire writes:
Giving them more money while they continue to cut jobs is like going to the track and betting your entire week's pay on a dead horse. It's just not smart! Unfortunately for the people who depend on the Big 3 for income and revenue, I don't think more money is going to do anything! The market should decide their fate, and if it comes down to bankruptcy then so be it!
Ben from Boston writes:
Not another penny of government money until the entire board of directors and all executives are replaced. The workers could run the place better by themselves. What turkeys!
Janice from Aberdeen, South Dakota writes:
The stakes are the same as they were before. Bail them out or risk the loss of over a million auto-related jobs. I don't exactly think that many lost jobs would stimulate the economy. It would tank even further and risk putting suppliers out of business who are critical to all the auto companies and also aerospace and other industries. And, when the economy recovers, a strong auto industry with more green cars is what we need moving forward. Hold our noses and the executives' feet to the fire, but yes – bail them out.
Mike from Buffalo, New York writes:
Jack, I'm guessing my next car will be a Ford!
Rex writes:
I'm tired of hearing what GM and Chrysler want. They got themselves into this mess, let them get out by themselves. I've been without a job since November. I'm the same as a lot of others; no one is bailing us out.
John from Santa Barbara, California writes:
Only when all parties involved in manufacturing cars are on their hands and knees, with their tongues hanging out, and are truly ready to resolve the problems.