From CNN's Jack Cafferty:
Two of the Big Three American automakers are holding out their hands again for more of your taxpayer dollars.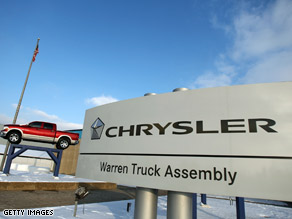 Chrysler will discontinue the Dodge Durango, PT Cruiser and Chrysler Aspen.
General Motors and Chrysler say they need another $21.6 billion to stay afloat, this is in addition to the more than $17 billion they received a couple months ago. The companies have both put out plans for how they'll restructure in order to survive. I thought they were supposed to have already done that.
G.M. says it will cut 47,000 more workers, close 5 more plants in North America and cut half of its brands - Saturn, Pontiac, Hummer and Saab - leaving them with only Chevrolet, Buick, Cadillac and GMC. The company also says it's making headway in its talks with the United Auto Workers union and bondholders to find more ways to cut costs. Chrysler says it will cut another 3,000 jobs and discontinue 3 models - the Dodge Durango, PT Cruiser and Chrysler Aspen.
Meanwhile, this all puts the Obama administration in a tricky spot. Either they give the money and hope that the car companies don't come back asking for more in a few months. Or they say "no", which will probably force GM and Chrysler to declare bankruptcy. Both companies pointed out that the cost of a bankruptcy reorganization would be a whole lot steeper than their most recent loan requests.
The White House says it's reviewing the automakers' proposals and insists that "more will be required" from all parties involved to turn around their prospects.
The third Detroit company – Ford Motors – posted its biggest loss ever in the fourth quarter, but insists it can survive without government loans.
Here's my question to you: Should General Motors and Chrysler be given additional taxpayer money?
Interested to know which ones made it on air?