From CNN's Jack Cafferty:
There's a growing chorus of voices who want to take a closer look at how Roland Burris was appointed to the U.S. Senate by now-ousted Illinois Governor Rod Blagojevich.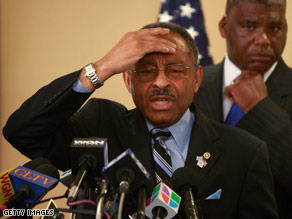 Many officials in Illinois want to take a closer look at how Burris was appointed to the Senate.
An affidavit recently filed by Burris shows he had more extensive contact with the former governor's people than he previously acknowledged. The affidavit shows Burris spoke on several occasions with Blagojevich's brother, who hit him up for $10,000 in campaign money. Burris says he didn't raise or donate any money after June and insists there's nothing inconsistent in what he said during Blagojevich's impeachment trial and the affidavit. The Illinois senator says he has "absolutely nothing to hide" and that he'll testify in front of anyone to prove it.
But that might not cut it. Illinois Republicans started calling for a perjury investigation by a county prosecutor. And now Democrats are getting in on the action too. The Democratic Attorney General is calling the affidavit a "particularly frustrating revelation" and wants a deeper investigation into his actions.
Meanwhile, the Democrats on Capitol Hill have probably had their fill of this sideshow in Illinois. Majority Leader Harry Reid apparently knows about the affidavit and is looking into it. Reid's office says "clearly it would have been better" if Burris had provided this information when he first testified. No kidding.
Burris was appointed by Blagojevich 3 weeks after the governor was arrested on corruption charges, including an attempt to sell Obama's Senate seat.
Here's my question to you: Should Roland Burris resign from the U.S. Senate?
Interested to know which ones made it on air?
Pablo from Texas writes:
Jack, Not quite yet. Almost certainly there is more fertilizer about to hit the ventilator. Let us not rush to judgment. Sen. Burris should be given a chance to dig himself out or in a little deeper.
Mike from Hot Springs, Arkansas writes:
No. He should just go sit in the corner and do what he is told until the next election when Illinois can elect someone to replace him. We have other important things to worry about and this is but a blip on the screen that only Republicans and old newscasters like you like to worry about.
Jim from Las Vegas writes:
Who would you replace him with if he does? With the exception of "Honest Abe", has there ever been a non-corrupt politician to come from that state, especially since Prohibition?
Jack from Lancaster, Ohio writes:
Jack, I don't know who he is but I support any of their resignations. We are woefully behind on elected official resignations. We need to catch up and catch them before any of them can do more damage. It would be a "shovel ready" project.
Beverly from New York writes:
Jack, He should resign but he won't. The truth will come out; none of the participants seem overly bright. It's like the Keystone cops do politics.
Tom from Desoto, Texas writes:
I've never been to Chicago; I've heard it's a nice city. The state of Illinois appears to be run like a 3rd world country. Perhaps it could be sold to South America.