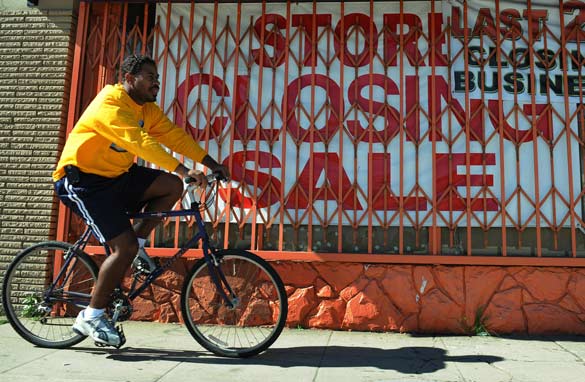 It is not clear if the almost $790 billion in the stimulus bill will be enough to do the trick. (PHOTO CREDIT: MARK RALSTON/AFP/GETTY IMAGES)
From CNN's Jack Cafferty:
President Obama may have signed that massive stimulus bill into law today, but the scary part is it's not clear if the almost $790 billion in government spending will be enough to do the trick.
The stock market tanked this morning, dropping 230 points in the first 90 minutes of trading. The stock market is now close to its lowest level in ten years. Investors are nervous that the stimulus plan won't have the kind of impact it needs to begin to turn the economy around. Wall Street also gave a thumbs down to Treasury Secretary Geithner's banking plan last week.
Then there's Detroit. GM and Chrysler are set to tell the government today how they plan to stay afloat, they've already gotten more than $17 billion in government loans. If they can't prove how they'll survive in the future, they may not get any more.
Some states are treading water even before the stimulus plan has a chance to trickle down to them. If California lawmakers don't pass a budget soon up to 20,000 state workers could lose their jobs. The state faces a $42 billion deficit and lawmakers can't seem to agree on a budget, particularly on more than $14 billion in tax increases. California may also halt nearly 300 state funded public works projects. That would mean more layoffs.
In Kansas, the state government has run out of money to pay its bills. They've suspended income tax refunds and may not be able to pay employees on time. Officials say the state might also have to delay payments to public schools and to doctors who provide care to the needy under Medicaid.
Here's my question to you: Is the stimulus bill too little too late?
Interested to know which ones made it on air?