From CNN's Jack Cafferty:
Former President Bill Clinton says when it comes to right-wing talk radio, it's time for "more balance" on the airwaves.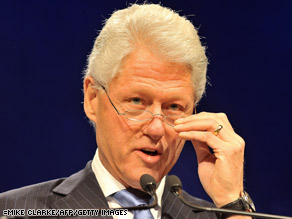 Former President Clinton thinks talk radio needs "more balance."
Clinton says the government should either bring back the "Fairness Doctrine" or have more programs that present the other side. "Because essentially there's always been a lot of big money to support the right wing talk shows and let's face it... Rush Limbaugh is fairly entertaining even when he is saying things that I think are ridiculous," said the former president.
This follows recent chatter from some Democratic Senators to possibly hold hearings on radio accountability, even though no one has scheduled them as of yet.
The Fairness Doctrine required broadcasters to air both sides of controversial topics. But in 1987, the FCC found it unconstitutional. Congressional Democrats tried to bring it back, but President Reagan vetoed that effort.
Several Democrats started talking about bringing back the Fairness Doctrine last fall, which worried Republicans and talk radio hosts. At the time then-Senator Obama said he didn't support the idea, saying it was a distraction to more pressing issues in the media business. I wonder how he feels now.
Nonetheless, just the possibility of hearings has been enough to get the likes of Rush Limbaugh and Sean Hannity buzzing.
Here's my question to you: How would you regulate talk radio?
Interested to know which ones made it on air?
Will from San Jose, California writes:
If you want more left-wing talk radio, then listen to it and buy the products advertised during the programs. The Daily Show and Colbert Report are great shows and do just fine without government help. If other shows aren't doing well, it's because they frankly aren't any good.
BJ from Seminole, Florida writes:
This is so obvious; the moon would truly be green cheese if anyone disagreed. The Fairness Doctrine should be reinstated asap.
Joseph in Los Angeles writes:
Somehow, I don't think Bill Clinton would be pushing for the Fairness Doctrine if it were liberal talk-radio dominating the airwaves.
Richard in Kansas writes:
There are good and bad radio hosts for sure but it certainly doesn't need to be regulated. If elected officials can't take criticism they should find another line of work. All opinions count in this country.
Marie writes:
Yeah! It's all so funny and harmless until someone pokes an eye out. The constant hate spewed everyday from popular conservative hosts will continue until something major happens to put an end to it.
Terry from Iowa writes:
In all things, we must abide by the Constitution. From right wingers to left wingers, we all have the fundamental right to freedom of speech. I despise much of what talking heads like Limbaugh or Stern spew on their radio talk shows. Primarily because it's ignorant, biased propaganda that is of little moral, intellectual or entertaining value. These types will say and do anything for a buck. Unless they are endangering others, there should be no regulations.
Keith from Twinsburg, Ohio writes:
Every radio, like a TV, has knobs on them to either change to another station or to turn the damn thing off. That's all the regulation that I need. I like to make my decisions.