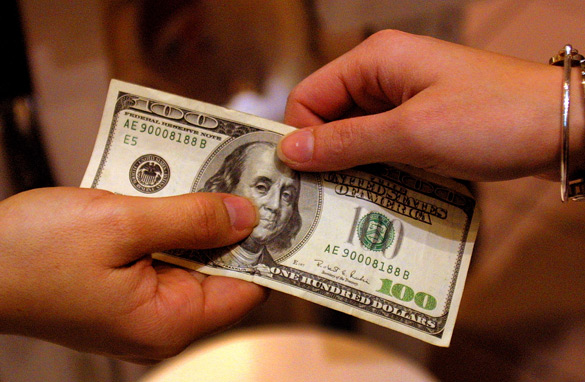 Are you a spender or a saver? (PHOTO CREDIT: GETTY IMAGES)
From CNN's Jack Cafferty:
With the economy in a tailspin, Americans are saving more. And while that's a good thing for Americans, believe it or not that's a bad thing for the economy.
We have gone from a negative savings rate a year ago to saving 3-point-6 percent of our income in December. That translates to 36 dollars saved for every one-thousand dollars of after tax income.
Although our current savings rate isn't a record high and is still lower than other countries, it's a lot higher than it's been. And therein lies the problem. Our economy relies on consumer spending for its mojo. Consumers drive two-thirds of our economy. If Americans aren't opening their wallets, the economy isn't going anywhere.
But as more people are laid off and family budgets are tightened, many understandably want to save more. Also, more Americans are saving more as they're seeing their access to credit cut off.
This is all a lot different from what we saw before the bottom fell out of the economy: the savings rate was at historic lows from 2005 through early in 2008, occasionally even falling below zero. Those were the days when a strong stock market and skyrocketing real estate prices led many to believe they had an endless supply of money- or certainly an endless supply of credit.
But those days are over, and we suddenly find ourselves in a rather strange position. Although it's better for your bottom line to save as much as you can, doing that might just prolong our economic woes.
Here's my question to you: If you come into extra money, will you spend it or save it?
Interested to know which ones made it on air?
Tripp from Mechanicsburg, Pennsylvania writes:
Take a closer look and you'll see that those putting away extra savings are those who can afford to. We who cannot make ends meet at the end of the month will spend every penny so our gas won't be turned off and our homes foreclosed.
Eric from Fort Collins, Colorado writes:
Jack, With all the money the government is printing to pay for the stimulus, we'll all need the extra money to counterbalance the high inflation that's about to hit us. What extra money?
Matt from Stafford, Virginia writes:
I would love to go out and spend all of my (theoretical) extra money, thinking that the action would spawn magical economy fairies, who would go around making everything better. Nobody knows where this economy is going. The stimulus is a defibrillator: it could shock the economy back to life, or do absolutely nothing. My money is going right into the bank.
Daniel in Japan writes:
Jack, The first thing I would do with any extra money is to change it to something other than U.S. currency. It would be better to save in the form of Japanese yen or canned spam than to keep a stack of soon to be worthless U.S. dollars. It's over, Jack. The zombies are coming.
M. writes:
Of course I would save it. I was brought up by parents who were children of the Great Depression. They believed the quickest way to double your money was to fold it in half and put it in your pocket.
Joan writes:
Spend. There are great deals right now so anyone who can afford it should take advantage of the bargains and help themselves and the country as a whole.
Jesse from New Jersey writes:
It would go right into my savings, which is under my mattress since I can't trust the banks.
Roland from St. George, Utah writes:
I'd send you as much as it would take to get you to read one of my comments on the air. Do you even know where St. George, Utah is?