From CNN's Jack Cafferty:
You want to be stimulated? How does $13 a week sound to you?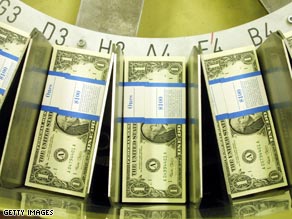 Officials estimate the new stimulus plan will mean about $13 a week more in people's paychecks this year.
While the federal government is passing an $800 billion stimulus bill - which works out to about $2,700 for every man woman and child in the country - the average worker can look forward to seeing about an extra $13 a week in his/her paycheck after taxes. This is on top of the $700 billion financial bailout package that was passed last fall and given to the Wall Street and banking weasels.
When I was a kid and was given my meager allowance I was often told, "Try not to blow it all in one place."
$13 a week. Think you can stave off foreclosure with that? How about junior's tuition, room and board at college?
Maybe trade in the old car for one of those new, fancy hybrids. $13 a week ought to handle it.
Or you could plan a lavish trip to Las Vegas and make the whiny old mayor of that town happy.
I'm no economist. But if two-thirds of our economy depends on consumer spending, and we have lost three million jobs in the past year and have almost five million people drawing unemployment benefits, wouldn't it make sense to put a little more jingle in the pockets of the folks who are fortunate enough to still have a job?
President Obama should be embarrassed. And those clowns in Congress should be ashamed of themselves.
Here's my question to you: How stimulating is $13 a week?
Interested to know which ones made it on air?
Andrew from Carmel, California writes:
While I agree it's not that stimulating, it helps. It's a student loan payment, credit card payment, or maybe helps with rent. So, stimulating? No. Helpful? Yes.
Marge from New Port Richey, Florida writes:
It does sound rather ridiculous when you put it like that, but think about it in another way. It's definitely not enough money to save and make a difference in anyone's life, so all of those people will immediately spend it. With many millions of people spending an extra $13 every week, I would imagine it could stimulate the economy as a whole and give it a well-needed jolt.
Arlene from Iowa writes:
I've already been stimulated. That's about how much my Social Security went up for this year. Can you spell j-o-k-e? As usual, we the people get screwed. Isn't it just stimulating?
Eileen from Chicago writes:
Well isn't this a myopic view of the stimulus package. If I didn't get $13 a week, I would still want the stimulus package because the country will bode better economically over the next few years with it. This isn't just about the amount of money in 'my' purse, checking account, or my 401k. It's the economy (for the country), stupid.
Sebastien from Philadelphia writes:
You're right, Jack: you're no economist and neither am I. The problem with giving Americans a wad of money right now is that there's no guarantee they'll spend it. I know I'd try to save whatever I got, even if it was $13 a week.
Sam writes:
I guess with the extra $1.86 a day I'll be able to supersize at lunch.
Sandi writes:
It means I can get my medications refilled. Doesn't mean much to the economy, but it will mean a lot to me.
Duncan writes:
That extra $13 per week will easily buy a 12-pack of domestic beer. What better way to drown our collective misery over this economic disaster?