From CNN's Jack Cafferty:
With the U.S. economy hemorrhaging jobs, it might be time to reconsider this country's immigration policy.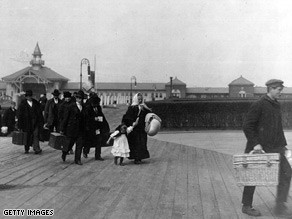 Immigrants arriving at Ellis Island in 1905. Is it time to change our immigration policy?
Just last month our economy lost nearly 600,000 jobs, hitting an unemployment rate of 7.6%. Since December 2007 the economy has shed 3.6 million jobs, with almost half of those losses occurring in the last 3 months alone.
Meanwhile, there are millions and millions of legal and illegal immigrants who have jobs in this country. These job losses also come at a time when President Obama is under increasing pressure from Hispanic groups, who helped get him elected, to loosen up on the more aggressive immigration policies of the Bush administration. They're calling on the new president to push for comprehensive reform that would balance law enforcement with new legal avenues to citizenship.
But some might wonder if now is the right time to make it easier for more people to get into this country when millions of Americans are struggling to find work. Remember when all we heard was that illegal aliens do the work Americans are unwilling to do? I wonder if that's still the case today.
Others insist that this is the wrong time to close immigrants out. Tom Friedman writes in the New York Times about the importance of opening the U.S. economy to a smart and energetic immigrant workforce. Friedman says protectionism didn't cause the Great Depression but did helped make it "great". Writes Friedman, "When the best brains in the world are on sale, you don't shut them out. You open your doors wider. We need to attack this financial crisis with green cards not just greenbacks."
Here's my question to you: Should the government change its immigration policy in light of the tremendous loss of American jobs?
Interested to know which ones made it on air?
Marcus writes:
Halt all immigration until the unemployment rate is below 3%. Plus impose a 50% tax on all money sent back to home countries by non-citizens.
Russell from Little Rock, Arkansas writes:
While it is easy to blame immigrants for taking jobs that 'rightfully' belong to American citizens, the companies and individuals that employ undocumented and illegal immigrants are more to blame. Those companies that have chosen to offshore jobs are equally at fault and have contributed as much or more damage to this economy and the jobs situation as have the immigrants who buy goods and services, pay sales and payroll taxes, and pay rent in order to stay in this country.
Jim from Reno, Nevada writes:
Jack, no. Immigration policy should not be changed in an attempt to save more jobs for Americans. I agree with Friedman. We need new blood and energy, not to mention a dose of old world ethics and honesty. Maybe some new immigrant will start the next Microsoft.
Andy writes:
A moratorium on immigration is needed. It is driven by corporations' control of Congress to have access to cheap labor and the Democrats' desire to gain votes.
Doug from Dallas writes:
I wonder how many illegals have lost their jobs that no one knows about? Changing our immigration policy in light of the current problems makes no sense. Instead the government should adopt a fair and balanced policy that works regardless of the economic climate. Of course that would require thought and planning, both of which are in short supply inside the beltway.
Tom from Bradenton, Florida writes:
This is long overdue. While I am unemployed, I know someone who is here illegally, holds a part-time job, goes to college and is piling up thousands in student loan debts. Now you go figure.