From CNN's Jack Cafferty:
Want to save money on your health insurance? Try the salad bar. In South Carolina obese people may soon have to start paying more for their monthly premiums.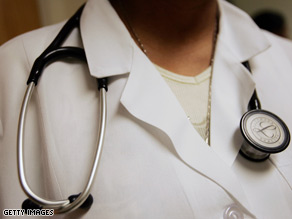 South Carolina is considering a proposal that would charge obese state employees extra for health insurance.
A bill in the state Senate would charge fat public workers an extra 25 bucks a month, tying the fee to employees' body mass index, which is a measurement of weight and height.
But a subcommittee delayed its vote when the author of the proposal said he'd be willing to rewrite it. They may turn the surcharge into an incentive instead of a punishment, meaning the state would increase everyone's premiums and then give a discount for fit workers. Either way it sounds like a win-win. It's no secret that fat people tend to eventually require more healthcare than skinny people. Diabetes, heart attacks and strokes tend to occur more frequently in the overweight population.
And South Carolina has a lot of them. The state ranks fifth nationwide when it comes to adult obesity and diabetes. 30% of residents are considered obese and one in 10 has diabetes. The state has already approved a proposal to charge smokers $25 more a month for health insurance.
Critics say the fee would be too difficult to administer and enforce. One senator calls it an intrusion into people's lives and another says it wouldn't be fair to those who have weight problems for health reasons and not because they just eat too much and don't exercise.
Last summer Alabama became the first state to approve charging fat workers more if they don't shed some pounds.
Here's my question to you: Should obese people pay more for health insurance?
Interested to know which ones made it on air?
Pete from Florida writes:
If obese people were forced to pay more, then it would definitely make them more inclined to lose weight. I'm tired of being the "fat country" of the world. I say we start the plan now.
Larry from Ohio writes:
Jack, Personal habits have played into the cost of insurance premiums for a while now (smoking, etc.) If a person chooses to put himself into jeopardy of having a Big Mac heart attack, I see no reason why that person shouldn't have to pay more!
Mark writes:
Once again, we are making the poor pay for our financial problems. Many, if not most, overweight people are overweight because the cheaper food, which they can afford, is high in calories and low in nutrition. From our school lunch programs to cheaper fast foods, the poor are caught in a situation where to eat normal amounts is to become obese.
Larry from Houston writes:
Jack, If the cost of health insurance was decided by how much you weigh, can you imagine what the American people would look like in the future? The fast food places would go out of business!
Maria writes:
Well, I don't know. As someone who has struggled with her weight since she was 12, it's yes and no. Yes, because I think they should be held responsible when they won't make attempts at losing weight and continue to live unhealthy lives. But no because I do believe that obesity is a genetic condition and at times can't be controlled.
Sontho from Tallahassee, Florida writes:
Elementary, my dear Jack: you weigh more, you pay more!
Rowland writes:
My answer is a big fat yes.