From CNN's Jack Cafferty:
It was on. Then it was off. Now it's on again. The stimulus plan at this moment is a done deal.
Meanwhile, as top Democrats and a select few Republicans worked on that compromise, other lawmakers are saying that the stimulus package amounts to little more than "theft."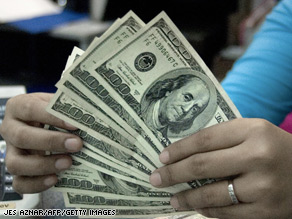 Does the stimulus plan amount to theft?
Democratic Senator Byron Dorgan points out this is more money than has "ever been contemplated in the history of our country." He's proposing that the government come up with a system to show how every penny is spent, adding the real scandal is not knowing how the money is being managed. Said Dorgan, "Letting the banks be run like casinos on their own account, is that theft? You're damn right it is."
Then there's Republican Senator John "the fundamentals of the economy are strong" McCain who is calling the bailout "generational theft." He says we're robbing future generations by laying such astronomical debt on their shoulders.
These critics are right that the numbers are staggering. The president's package is more than $800 billion. That's on top of the $700 billion Bush bailout plan. Then tack on trillions of dollars the government has promised in loans and potential spending to loosen up credit markets.
But here's the catch: many of the brightest economic minds suggest that the risk of doing nothing is more costly than this mind-boggling price tag.
Here's my question to you: Do you agree with lawmakers who say the stimulus plan is "theft"?
Interested to know which ones made it on air?
Ray from Danville, Virginia writes:
Yes it's theft – theft from our children and grandchildren. Politicians in Washington only consider today's problems; they never consider the mess they are creating for the coming years. Just paying the interest on the debt each year on all the borrowing they are doing will take trillions of dollars because the debt will never be paid. Next year the interest payment on the 12 trillion dollar debt they are approaching will be 500 billion dollars and it will grow each year.
Colleen from Charlotte, North Carolina writes:
I actually do believe it is theft, and very obviously so. However, I do not have an alternative solution and something has to be done to stop the hemorrhaging of jobs and the economy in general. No, I don't have an alternative plan and neither does John McCain, so until he can be more productive and offer an option to stimulate the U.S. as well as the world economy he should be quiet-like me.
Al from Lawrence, Kansas writes:
Doing nothing would be the real theft. The economic collapse is robbing people of their homes, their jobs, and their retirement. These people calling it theft are the same people who caused this. They are the ones who "stole" our homes, our jobs and our savings. Giving them any credibility in this crisis is just plain dumb.
Tony in Michigan writes:
If there is no accountability or transparency, it will be theft – much like the $700B bill. If the government is spending money to honestly help American taxpayers, then it is not theft.
Angela from Tacoma, Washington writes:
No, but I feel like I was robbed eight years ago and just found out.