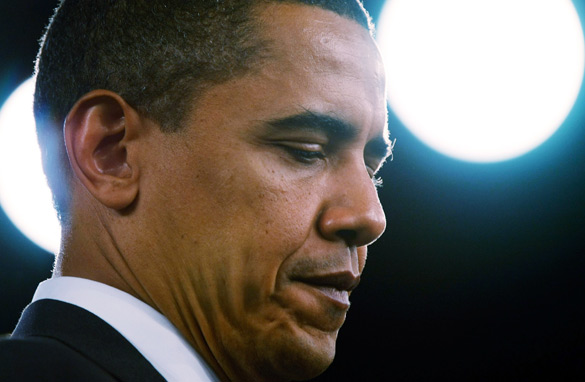 A Financial Times columnist wonders if Barack Obama's presidency has already failed. (PHOTO CREDIT: GETTY IMAGES)
From CNN's Jack Cafferty:
Getting the stimulus bill passed is one thing, but before we break out the champagne we might want to see if it works. And nobody is offering a guarantee on that. In fact, there are folks out there who are suggesting that if the economy doesn't show some signs of life pretty soon, the American public might begin to sour on the euphoria surrounding the man from Illinois.
For example, here's a headline: "Has Barack Obama's presidency already failed?" That's a rather startling question posed in the Financial Times by columnist Martin Wolf. He writes how in normal times, this would be a ludicrous statement. But because we're living in times of "great danger", it's worth taking a look.
He says that right now a lot of the blame is still being heaped on the previous administration. But if the Obama administration doesn't act swiftly and strongly enough, it will inherit the blame. He says "doing too little is now far riskier than doing too much" and suggests that if the president can't fix the economic meltdown, the rest of his presidency is pretty much over.
According to Wolf's column, both the stimulus package and Tim Geithner's banking plan seem to be hoping for the best, when what they really need to do is expect the worst. Wolf says he's surprised that the new president let Congress pretty much write the stimulus package, and he sees the new banking proposal as too indecisive and optimistic.
Meanwhile, a CNN-Opinion Research Corporation poll out this week shows an American public looking very favorably on the new president, with an approval rating of 76%. That includes a whopping 97% of Democrats and 50% of Republicans.
But people aren't nearly as fond of the president's stimulus package, with only 54% supporting the Senate bill. If more and more Americans continue to lose their jobs, it's unclear how long Mr. Obama can keep those numbers up.
Here's my question to you: If the economy doesn't start to improve, how long does President Obama have before the public turns on him?
Interested to know which ones made it on air?