From CNN's Jack Cafferty:
So Tim Geithner, the wunderkind who didn't bother to pay all his taxes and kept the nation waiting breathlessly for an extra 24 hours, finally unveiled his plan to save the world today.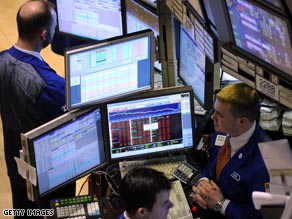 The Dow dropped 300 points minutes after Geithner's plan was unveiled.
Well actually it's the banking system. But if he doesn't save that, then somebody is going to have to save the world. The plan he announced is like a Chinese crossword puzzle unless you have a PhD in economics and finance. So let us try to simplify; it may cost another trillion dollars to keep the banking system afloat and get credit flowing again.
When Wall Street heard the news, it immediately threw up on itself, with the Dow dropping 300 points in a matter of minutes. And if Wall Street doesn't like it, I find it difficult to imagine why the rest of us should get too excited.
Nevertheless, at this point, we have little choice but to pull for Geithner- 34 banks have failed in the last year.
As the cost of dealing with our financial crisis soars into the trillions of dollars, I have this nagging feeling that we were never told the truth about how bad things were getting last year right up until Lehman Brothers went belly up in September. I still don't think we know.
Here's my question to you: How concerned are you about the nation's banking system?
Interested to know which ones made it on air?
Rich from San Clemente, California writes:
My concern is that the banking system isn't going to be changed in any substantial way as a result of the collapses and subsequent bailouts. The same people are running them, the rules have not changed, and as a result, this recession won't be going away any time soon. Institutions that are insolvent because of risky investments need to enter bankruptcy and be reorganized before anyone will really have any confidence in our system again. It's the lack of confidence that has put a stop to our economy.
David writes:
Bank? What bank. It seems to me that they don't want our business any longer. So I am not concerned unless we give them more money. Where happened to the requirement that they start giving loans again? I went in for a home loan and all but got laughed out the door - even though my credit is superb and I've had 3 mortgages from the very bank that turned me down now.
Bob writes:
Jack, Henry Paulson did an exploratory surgery on the banks last year, and ended up just sewing the patient back up. Better to pass on the problem to a new administration. Now Geithner is expected to have a miracle cure, and there are none. But we can't tell the American people this because it would cause a huge panic. Wall Street already senses this but is looking for some Washington D.C. magic. There is none. Obama will gradually tell us the truth and it will be very painful. Nationalization of our banking system is no longer out of the question.
Cori from Cape Canaveral, Florida writes:
Very concerned. It seems that at the beginning of every American Century, we need to reign in and severely regulate some manifestation of robber-barons. Now the robber-barons are the credit industry. I wish I had more confidence in this Congress to do what needs to be done.