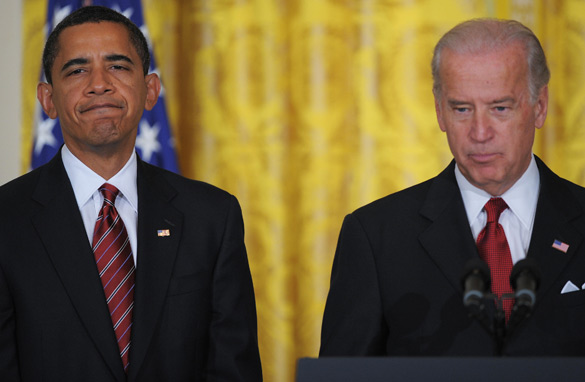 Is Vice President Biden embarrassing the President? (PHOTO CREDIT: GETTY IMAGES)
From CNN's Jack Cafferty:
"Barack Obama throws Joe Biden under the bus" is how one British newspaper describes the president's little dig at his number two during last night's press conference.
President Obama was asked about the Veep's recent remark that even if the White House did everything right in combating the economic downturn, there's a "30% chance we're going to get it wrong." The president grinned a little, saying he didn't remember "exactly what Joe was referring to." Smooth as ever, Mr. Obama went on to say that he wouldn't assign a numerical value to all this. But given the magnitude of the problems we're facing, no one single thing they do will solve all the problems.
But let's get back to the vice president. During the campaign, folks were always wondering what would pop out of Biden's mouth next. Biden has said "I never make any big, big gaffes", but many would beg to differ.
Perhaps the biggest headache came in late October when his running mate suggested that Mr. Obama would be tested by an international crisis within his first six months in office, something the McCain camp seized on immediately.
And, it didn't end on the campaign trail. During their first full day in office, Biden joked at a press conference about how his memory wasn't "as good" as Chief Justice John Roberts', who stumbled over the president's oath of office. The president wasn't laughing, and Biden later apologized to Roberts.
Here's my question to you: Is Vice President Joe Biden becoming an embarrassment for President Obama?
Interested to know which ones made it on air?