From CNN's Jack Cafferty:
Americans are keeping a close eye on President Obama - just three weeks into his administration - but they're also focusing on the so-called "fourth" branch of government, the media.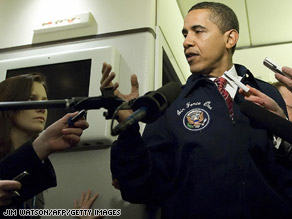 President Obama answers questions from the press on AIr Force One,
A new Gallup poll shows 38% of those surveyed don't think the press has been tough enough in its coverage of the new president. 11% say "too tough", while almost half - 48% - say "about right."
It's not surprising that Americans' views on media coverage of President Obama breaks down along party lines. Another recent poll showed most Democrats find it "about right", while most Republicans say it's "not tough enough." Independents are about evenly split.
When it comes to those who believe the media haven't been tough enough on President Obama, Gallup found an overwhelming majority of these people - 85 percent - are at least somewhat concerned that the news media won't be able to fulfill its duties of providing oversight of the administration.
You may recall this was a big deal during the Bush years - the public was quite critical of the media - saying they weren't tough enough in their questioning, particularly during the run-up to the Iraq war.
In just a few short weeks in office - President Obama has been all over the media - popping into the press room, doing sit-down interviews with network and cable news anchors, holding town hall meetings, and tonight his first prime-time news conference.
Here's my question to you: How would you rate the media coverage of President Obama?
Interested to know which ones made it on air?
Jan from Knoxville, Tennessee writes:
I would rate it A+. President Obama is so likeable, I'm sure the press enjoys covering him. He is like a fresh breath of air in Washington, as is his lovely family.
Pete from New York writes:
Slobbering is about the right description. After Obama picked three tax cheats for high positions, Brian Williams asked him if he was angry – as if the president was the victim instead of the person who made the decision in the first place. The first reaction of the press is to make an excuse for him.
Mike from Caledonia, Minnesota writes:
Hello Jack, I watch CNN. I don't not watch Fox News or listen to that blowhard Rush Limbaugh. I think CNN has done a fair job of covering President Obama and only wish someone there would have had some guts 8 years ago while Bush and his cronies destroyed this country on every possible level. We may never recover from the damage that Bush 43 did to America, but we've got the right guy in charge to give us a fighting chance.
Sandi from Chicago writes:
I can't say the media coverage has been 'fair and balanced'. In my opinion, the media is pushing the idea that President Obama and his administration should have solved the economic problem by now... and what is it, three weeks into his term?
Paul from Columbia, S.C.
I am surprised you asked this question, Jack, given your obvious bristling at our oft-times critical comments about the media. But since you asked, I watched and heard the swooning of the media back in the Kennedy days and the over-the-top Camelot rubbish. This time around, there was all the promotion of the coming of the new messiah, Barack Obama, by the media before the election. There must be a huge disappointment in the media ranks that another concocted fantasy couldn't be foisted on the public. Better luck next time.
Steve from Tennessee writes:
I give it an OK. It's that Bush guy you let get away with murder.