From CNN's Jack Cafferty:
The stimulus debate rages on, even though the Senate is expected to pass its $827 billion version tomorrow.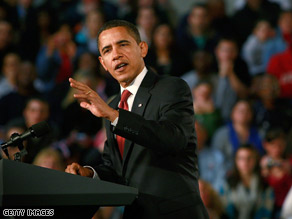 The president urged Congress to support the stimulus at a town hall meeting today.
President Obama hit the road today with town hall-style meetings to sell it. He will address the nation in a primetime press conference tonight. The President insists the stimulus package will help pull our economy out of its current tailspin.
But most Republicans continue to slam the plan for what they believe is excessive spending that won't fix our economic problems. Senator Richard Shelby of Albama says the package will put the U-S on "a road to financial disaster". The head of President Obama's National Economic Council - Lawrence Summers – says the Republicans have no credibility on this issue after the previous administration racked up trillions of dollars of debt over the past 8 years.
Bottom line is there's a real sense of urgency that this thing pass. The Senate is expected to vote tomorrow, but even now Congressional aides are at work reconciling the Senate version with the House's.
Meanwhile- the Republicans might want to tone down their whining. A new Gallup poll shows a majority of Americans– 58% - disapprove of the way the Republicans have handled themselves during the stimulus debate. That's compared to 42% who disapprove of Congressional Democrats and 25% who disapprove of President Obama.
Here's my question to you: How important is it that Congress move quickly on the stimulus plan?
Interested to know which ones made it on air?
Joe writes:
How quickly? Ask any of the 20,000 Americans who lost their job today. And if not them, any of the 20,000 that will lose their job tomorrow. Or the 20,000 the day after that. And the day after.
Mari from Salt Lake City, Utah writes:
Where were Sen. Shelby and the rest of the so-called-fiscal-conservatives when Bush was spending our nation into… oblivion? If tax breaks for the powerful and wealthy worked, we wouldn't be in this MESS!
Kyle from Dupont, Washington writes:
It is important to act quickly on "a" stimulus package, but this one has so much pork in it my arteries are hardening. It's like patching the roof of a house when the foundation is crumbling. The real issue, declining real estate values, is still not addressed. For two-thirds of us, our largest single investment is our home and we all took a huge loss last year.
JD from New Hampshire writes:
It's vital to move quickly. Those eager to loll away the next few months debating and debating and debating are not the people whose jobs are being lost. They are not the people worrying about putting food on the table. They are not the people whose homes and savings are gone. Maybe they should be.
Karen from Florida writes:
Does it make a difference? What makes you think it will work any better than the last one?
Jack writes:
Throwing money we don't have at everything makes little sense. We should target where the money is applied and how before we spend again. A lesson to be learned is from the billions we threw at the banks recently. Eh?
Nancy writes:
I think they have to pass it fast enough for no one to catch onto what they are doing and where the money is really going!
John from Arizona writes:
Jack, Our economy desperately needs a massive dose of shock and awe, and it needs it yesterday!