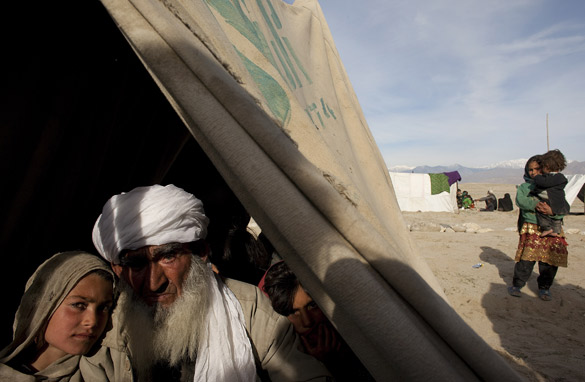 A top diplomat recently said the war in Afghanistan will be a "long, difficult struggle." A US military raid recently destroyed 270 homes and displaced hundreds of families. (PHOTO CREDIT: GETTY IMAGES)
From CNN's Jack Cafferty:
Just in case President Obama doesn't have enough worries at home with the economy, one of his top diplomats is now warning that the war in Afghanistan will be "much tougher than Iraq."
Richard Holbrooke - the special representative to Afghanistan and Pakistan - insists that there's no "magic formula" and that it will be a "long, difficult struggle." Holbrooke knows a thing or two about dealing with conflict, he's got a long resume that includes negotiating an end to the war in Bosnia.
The president has made it clear that Afghanistan will be a top priority and his administration is deciding whether to send another 30,000 troops there, which would almost double the current troop strength.
Speaking at the same meeting as Holbrooke, General David Petraeus said there's been nothing easy about Afghanistan. He described the country's many needs - ranging from ground troops to intelligence, surveillance, special ops, you name it. There are high expectations that Petraeus can mirror the progress he made in Iraq.
The U.S. is also calling on the international community to step up its role in the war-torn nation.
Although Afghan President Hamid Karzai acknowledges security problems - he says they've had success in areas like roads and health care. Mr. Karzai insists his country is not a "narco state" or "failed state." It's probably worth noting that he's up for re-election this summer.
Meanwhile, a new poll of the Afghan people shows support for Mr. Karzai's government, the U.S. and NATO plummeting - so President Obama has his work cut out for him.
Here's my question to you: What does it mean when one top diplomat says the war in Afghanistan will be "much tougher than Iraq"?
Interested to know which ones made it on air?